Home

>

"From the Race Track to the Streets" Connecting the future through ROHM's technology in Formula E
"From the Race Track to the Streets"
Connecting the future through ROHM's technology in Formula E
FIA-sponsored Formula E, launched in September 2014, is still in its infancy but experiencing increased popularity. Perhaps a major reason it is drawing attention is its environmentally friendly technologies.
The racing format is completely different from that of F1. Sustainable, innovative, clean, and silent, Formula E cars utilize electric vehicles powered by lithium-ion batteries, making it possible to race in the heart of major cities in the United States, Monaco, Germany, Russia, the UK, and others Races are run on public roads of about 1-2 miles in length.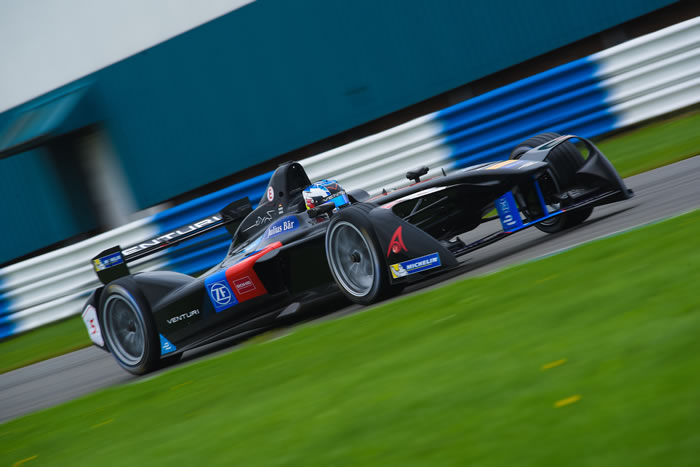 Formula E Lands in New York
The popularity of races has been particularly strong in Europe and Asia, but is increasing in the United States as well ahead of the upcoming inaugural race this year in New York. Set against the iconic backdrop of Lower Manhattan and the Statue of Liberty, the race in Brooklyn on July 15 and 16 will mark the first in modern history to take place within the five boroughs of New York City.

The innovative partnership between Formula E team Venturi and leading Japanese power semiconductor manufacturer ROHM symbolizes a collaboration between sport and technology. "From the race track to the street" is a phrase often used to communicate the benefits of the racing series, and ROHM hopes that by becoming the official technology partner of Venturi, it can bring technological innovation to racing machines and future electric vehicles.

The battery installed in each Formula E car has a driving force of 28kWh of electric power. To boost the distance the car can run, each team is constantly taking into consideration the weight of the car and how to most efficiently use the energy provided by the battery.

Under these circumstances, ROHM announced a partnership with Venturi at the first race of the 2016/2017 season in Hong Kong in October 2016. "We are very excited to see our technology contribute to Formula E racing cars. We are looking forward to proving the quality and efficiency of our products on the circuit," says Dr Kazuhide Ino, Group General Manager of the Power Device Production Headquarters at ROHM.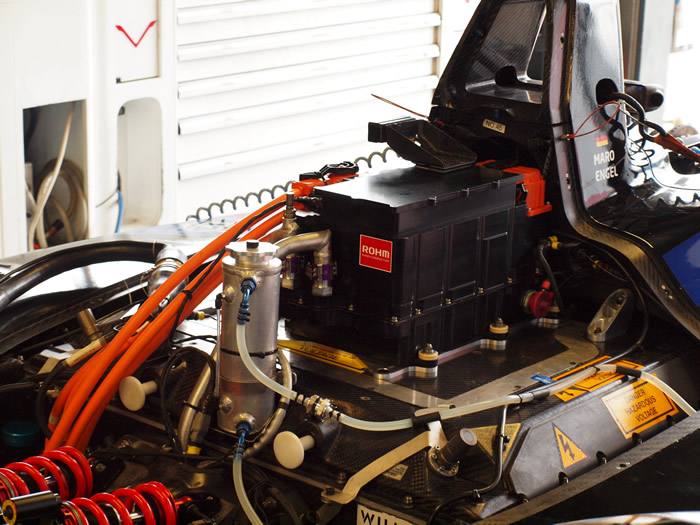 Top ROHM Tech for Racing
In 2010 ROHM was the first company in the world to mass produce MOSFETs using silicon carbide (SiC), a compound semiconductor manufactured using a crystal growth process, and continues to lead the industry in providing new SiC-based solutions.

SiC can operate at high temperatures and withstand higher voltages and large currents by reducing switching losses. As a result, SiC is drawing attention as a next-generation eco-material in a range of fields.

In Formula E's third season, Venturi adopted an inverter equipped with ROHM's SiC Schottky barrier diodes that improve efficiency by 1.7% while reducing weight by 2kg. Furthermore, decreasing the size and weight of the heat dissipation system made it possible to reduce inverter volume by 30%. To support Venturi, ROHM is pursuing innovation that results in smaller, stronger, and faster solutions. For season four, the company hopes to install new SiC MOSFETs that contribute to even higher efficiency.
Maro Engel, a driver on Venturi's Formula E team, believes the partnership with ROHM is critical, pointing out that the SiC technology that ROHM has introduced in Venturi's cars "allows us to successfully manage the heat being produced, therefore enabling greater engine power and ultimately better lap times."

Franck Baldet, chief technology officer of Venturi, agrees. "We are very proud to be co-developing our powertrain with ROHM's silicon carbide technology, which can be used to create a great solution for our inverters," he says. "Formula E is all about power management, and the partnership with ROHM – the leader in power semiconductors – improves the overall electronics of our car so we can reach higher performance with our electric motors."


A Greener Future
Experts around the world believe that Formula E racing will facilitate electric car development and bring about a fundamental change and advancement in the automotive market.

Dr. Ino of ROHM's Power Device Production Headquarters has a sincere commitment to developing power and energy management systems utilizing original technology. He says that "we should see SiC devices increasingly find their way into power electronics for hybrid and all-electric vehicles, creating simpler and more efficient power systems." He adds: "By making more economical technologies available for a wide array of industries and larger parts of society, we hope to take a prominent role in revolutionising energy policy."

Leveraging cutting-edge technologies and its pioneering spirit will allow ROHM to create the most advanced products. The company also hopes to continue to lead the industry and demonstrate the possibilities of electric vehicles by utilizing SiC technology in mainstream vehicles as well as Formula E.

From the perspective of businesses and consumers, the mainstream adoption of SiC power devices is expected to provide a benefit to both industry and society.

Photos: Venturi Formula E Team