Environmental Substance Management
Environmental Initiatives
Environmental Substance Management
About Environmental Substance Management
ROHM recently underwent several initiatives in order to comply with governmental regulations and legislation related to the eco-friendly manufacturing of semiconductor products, including compliance with the RoHS directive in 7/2006 (3/2007 in China) and the REACH (the registration, evaluation, authorization, and restriction of hazardous substances) initiative in 6/2007.
ROHM is continuing green procurement activities, including a control system that emphasizes accurate recording and strict regulatory compliance of all materials and products obtained in order to ensure that no prohibited substances are used or included in the manufacture of ROHM components, providing greater peace of mind.

ROHM voluntarily prohibits substances other than those restricted by the RoHS directive based on other environmental regulation and customer requirements. In this regard ROHM has initiated green procurement activities preventing the use of any prohibited materials.
In addition, in order to ensure compliance ROHM regularly performs analysis on procured materials and parts using a variety of methods, including ICP-AES (Inductively Coupled Plasma Atomic Emission Spectroscopy) and X-ray fluorescence analysis. This ensures that no prohibited substances are used or shipped from ROHM Group companies.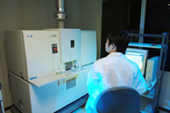 Inductively coupled plasma
emission spectrometers
enable accurate analysis of
prohibited substances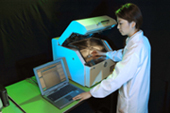 X-Ray Fluorescence Analyzer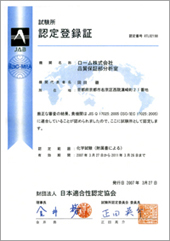 ISO/IEC17025(JISQ17025: 2005) certificate
RoHS Compliance
In 2004 ROHM began providing lead-free products in order to comply with the RoHS directive*.
(Excludes some custom products based on customer requirements)
*RoHS Directive: (2002/95/EC, the restriction of the use of certain hazardous substances in electrical and electronic equipment)

ROHM products do not contain hazardous substances exceeding the maximum allowable limit(excluding exempt applications)
Hazardous Substances (Regulatory Threshold)
Lead and its compounds (1000ppm)
Cadmium and its compounds (100ppm)
Mercury and its compounds (1000ppm)
Hexavalent Chromium and its compounds (1000ppm)
Polybrominated Biphenyls (PBBs) (1000ppm)
Polybrominated Diphenyl Ethers (PBDEs) (1000ppm)
Using ROHM products guarantee RoHS compliance. For those few ROHM products containing lead designed for exempt applications a separate explanation is provided regarding RoHS compliance.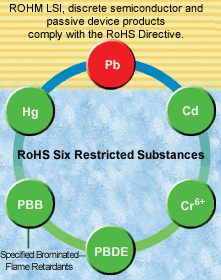 Navigation_Company_global