ROHM Communication Solutions
ROHM offers a variety of communication devices (both wireless and wired) in a range of transmission rates, communication distances, and protocols - customizable to user needs
In recent years the growing need to interact and control a variety of electronic devices (i.e. consumer equipment, PCs, automotive systems) to achieve greater comfort and energy savings has increased the demand for communication devices.
ROHM offers a wide range the of communication devices and can provide communication backup functionality.
Home Area Network Application Example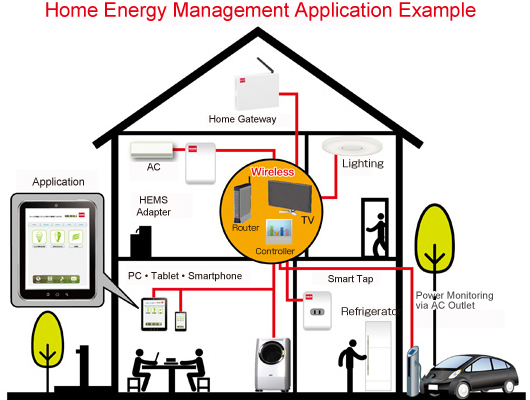 In Home Area Networks a variety of communication devices, both wired and wireless, are used to perform sensing and control of electronic devices and home appliances.
Smartphones, tablets, and PCs are generally used to control each device, typically via WiFi or other wireless method.
However, when placing electronic devices far apart or in different rooms wireless communication quality often deteriorates. HD-PLC is a wireless method using power lines that eliminates the need for wires while providing stable communication, making it ideal for home networks. But one drawback is the fact that outlets and power wiring are required, making this method is incompatible with battery-driven devices. Each communication method has its advantages and disadvantages, making it important to select the right communication method to suit the environment and set needs.
<Communication distance and application data transfer rate>