Back
Automotive World 2020: Introducing the semiconductor solutions that support the near-future mobility society
02/05/2020
ROHM exhibited at the 12th International Automotive Electronics Technology Expo at Automotive World 2020, to be held at Tokyo from January 15 (Tue) to 17 (Fri), 2020.
This time, under the theme of "Creating the Future of Automobiles", ROHM introduced semiconductor solutions that support a near-future mobility society, from the latest analog ICs that reduce the development load of vehicle systems to products that support ADAS and automated driving as well as SiC power devices that contribute to the evolution of xEV.
In this blog article, we introduce our booth highlights.
The First Exhibition of In-Wheel Motors Utilizing ROHM's SiC
For the first time, ROHM showcased the 3rd generation wireless charging in-wheel motor, collaborating with the Fujimoto Laboratory of the University of Tokyo, Bridgestone Corporation, NSK, Ltd., and TOYO ELECTRIC MFG. Co., Ltd., to directly receive power while driving. Our ultra-small SiC power module (under development) allows the inverter and motor to fit inside of the wheel. A lot of visitors were interested in this demonstration, expecting to use for future EV.


Exhibition Support by NSK, Ltd.
Solutions that Support ADAS and Automated Driving
In automotive systems where electrification is accelerating, including automated driving and electric powertrains, semiconductor and electronic components provide the key to improving overall system safety and functionality.
Visitors could experience the ROHM's automotive cockpit demo, which was completely revised in 2019 and we introduced the latest functions for vehicle systems which are expected to be put into practical use. In addition to LCD solutions for large-scale clusters that support functional safety, such as an original alarm function that activates during accidents, speech synthesis ICs and speaker amps capable of outputting warning sounds and providing voice support are offered for autonomous driving and ADAS applications.

Cutting-Edge Analog ICs Reduce the Development Load of Automotive Systems
In the automotive sector the increasing complexity of electrical designs calls for a larger number of components and places a greater development load for onboard systems.
ROHM develops analog ICs that meet the demands of vehicle applications for lower power consumption, fewer parts, and reduced noise design load. At Automotive World 2020, we showcased our latest solutions that fuse proprietary analog technologies covering circuit design, layout, and processes. Especially Nano CapTM power supply technology that ensures stable operation even without a capacitor while providing breakthrough noise resistance that minimizes noise design man-hours was our first exhibition.
* "Nano Cap" is a trademark or a registered trademark of ROHM Co., Ltd.

At the 12th International Automotive Electronics Technology Expo, which was attended by 280 companies focusing on semiconductors and electronic components, more than 30,000 people visited in three days.
Many visitors who were interested in the latest automotive electronics also came to the ROHM booth and were excited to discuss with our engineers. The technical presentations (several times each day) were also very successful. Thank you very much for coming to our booth!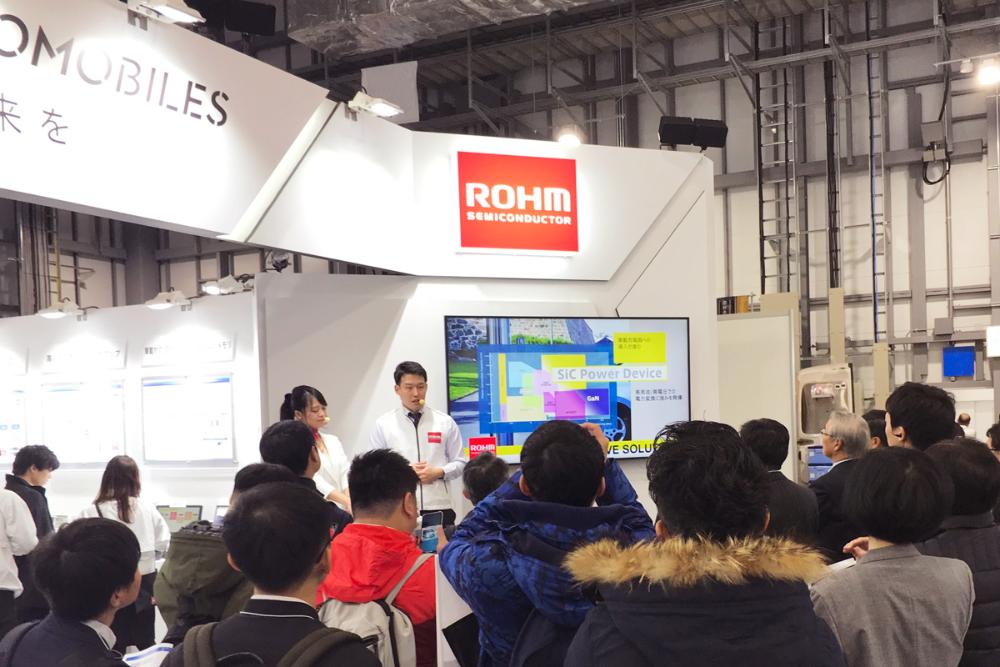 ROHM will continue to provide comprehensive solution proposals for the automotive market, which will be accelerating the digitization.