Back
ROHM Open Innovation Activities: From Manufacturing Contests to Case Studies
12/24/2019
These days, the electronic landscape is expanding to include both prototyping and initial set development. ROHM supports open innovation initiatives by supplying easy-to-use development kits that facilitate the creation of new ideas along with engineers involved in manufacturing. Most notable is the ROHM Open Hack Challenge (ROHC), a manufacturing contest that accepts prototypes utilizing ROHM devices that have the potential to make lives more comfortable, convenient, and enjoyable while contributing to a sustainable society.
In this article we will introduce the Lazurite series of MCU boards (one of the target devices for ROHC) developed by ROHM Group company LAPIS Semiconductor.
Recently, the Lazurite series was adopted in Crystal Story, a new attraction planned and developed by Square Enix Live Interactive Works (LIW). Square Enix is a well-known company that plans and manages entertainment, including interactive attractions and games for smartphones, with a corporate philosophy of contributing to the happiness of people around the world by providing the best 'stories'.
Crystal Story (Japanese) is a newly developed attraction that allows participants to experience adventure in a fantasy world set in the magical Mysterious Forest. From December 4 (Wednesday) to 6 (Friday), 2019, a special booth was setup at the EXPO2019 theme park held at Tokyo Big Sight to demo the live interactive experience which attracted many visitors.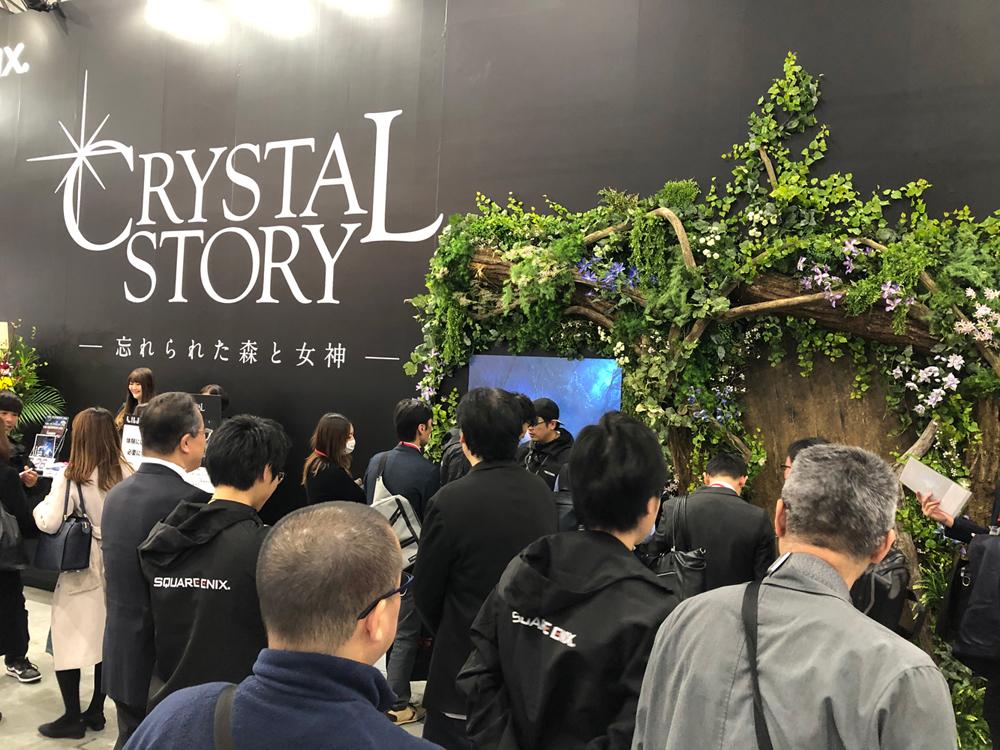 Crystal Story Showcased at Japan Theme Park EXPO 2019
Let's discuss this novel project in greater detail with Crystal Story developer Naoya Shirai.
Blog Editor (Blog): Mr. Shirai, please introduce Crystal Story again.
Mr. Shira Crystal Story is an attraction that explores a world that has lost its former glory, requiring the use of a magical lantern as a guide to navigate the 'forgotten forest' with the help of fairies. As an integral part of the story, participants use the lanterns to search for fairies and interact with the incredible fantastical environment created through digital effects, such as calling forth a goddess by placing the lantern on a stone pedestal.


Crystal Story is Filled with Digital Effects
Blog: This attraction utilizes the Lazurite series products developed by ROHM Group company LAPIS Semiconductor. Please tell us how the Lazurite series was adopted.
Mr. Shira: Actually, I was first introduced to Lazurite last year at the hackathon event sponsored by ROHM. I was always interested in creating things and like to work with my hands, so I often participated in hackathons. It was at one of the hackathons that I learned from a friend that ROHM would also be doing events, so I decided to participate. Initially, we were taught how to use ROHM Group devices and were able to learn more about Lazurite. ROHM presented a novel concept of using the 920MHz band instead of Wi-Fi or Bluetooth that we were using up to now, which I thought could not only be used for the hackathon, but also the attractions that I was working on. So I immediately contacted the Lazurite developer, Mr. Saito.
Blog: Specifically, what was the Lazurite series used for?
Mr. Shira: In this attraction, we were trying to create an interactive event in the middle of a large crowd.
Blog: What are your thoughts on actually using this device?
Mr. Shira: When using wireless communication at attractions, it is necessary to guarantee both the reliability and frequency of communication. However, as this was the first time working with a radio band, to be honest I struggled at first, but with Mr. Saito's help and the development team's support I was able to get everything up and running.
Lazurite is also attractive due to its low power consumption and long battery life. Equipment maintenance is essential for attractions, so the longer battery life that Lazurite provides reduces maintenance load.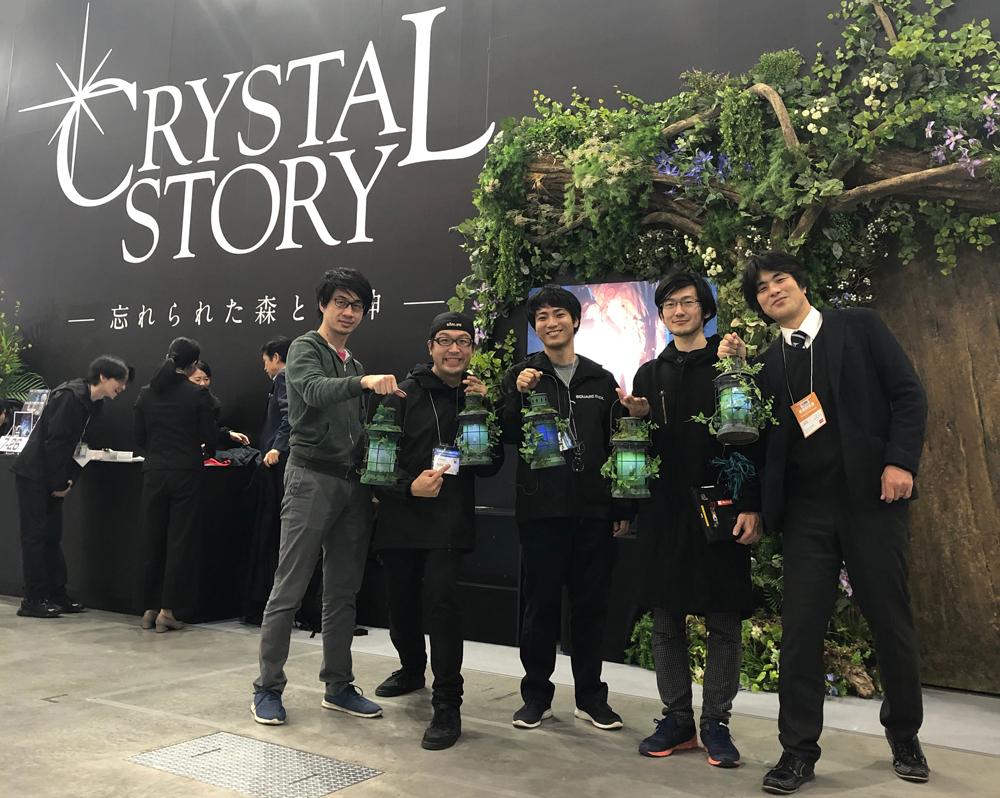 The Crystal Story Development Team with Lazurite Developer Mr. Saito
Blog: What is your impression of the ROHM Group?
Mr. Shira: I knew that ROHM was a semiconductor manufacturer that exhibits at trade shows such as CEATEC, but I was surprised to hear that ROHM was sponsoring hackathons, since there was no history of them supporting these types of manufacturing activities. It's in its 4th year, and has become one of the most popular events for people involved in hackathons.
Blog: What do you expect from the ROHM Group and other electronic component manufacturers when developing attractions?
Mr. Shira: Well there are two things we focus on when providing entertainment. The first is reaction speed. Ideally, the time between performing an action and the occurrence of an interactive event should be as short as possible, such as pressing a button and getting an immediate response in a game. The second is discreetly obtaining information from the surrounding environment, including sound, wind, voices, and light. For example, it is important in entertainment to deliver new experiences, such as allowing children to hear voices coming from unexpected places to provide a sense of the wondrous and magical. It would be great if electronic component manufacturers could help with these two areas.
Blog: What does the future hold for Crystal Story?
Mr. Shira: Crystal Story is the first in Square Enix's 'night walk series', and in the future we plan on exhibiting attractions at Japan Theme Park Expo, this time in a real forest. To this end, we would like to consider systems that can be used outdoors and customized for the different trees and natural environment. Please look forward to our future developments!
In addition to the Lazurite series introduced here, the ROHM Group offers a broad lineup of sensors and wireless communication devices compatible with a wide range of wireless standards. This makes it possible to support innovation activities as well as contribute to various real-world IoT applications. And going forward, the ROHM Group will continue to expand its lineup to provide optimized solutions for a variety of fields.