Back
Winning young talents: Empowering the next generation of engineers
01/13/2020
Technology companies have to deal with a serious fact: There might not be enough young professionals to fill all positions in the near future. What companies like ROHM Semiconductor Europe do to win young talents shows the example of Power Lab intern Leon Loeser.
Everyone is talking about the shortage of skilled labor. In the upcoming years, significantly more engineers will be needed than are studying at universities today. Therefore, it's essential for a technology company like ROHM Semiconductor Europe to take care of the next generation of engineers.
An important task is showing students and young engineers how the work in the field of technology looks like at ROHM.
Gaining practical engineering experience at the Power Lab
In order to provide the necessary insights to the next generation of engineers, ROHM offers internships to students. One of them is 22-year-old Leon Loeser. For six months, he gains experience at ROHM's Power Lab in Willich, Germany. This is required for his studies of electrical engineering at the Technical University Ilmenau. He's in his seventh semester and will graduate soon. "But before I start my professional career, I want to gain practical industry experience," explains Leon.
This is exactly what ROHM offered to him. The company provided him with a concrete project in the area of product development, involving design, testing and simulation - a realistic task, common in an engineer's everyday life.
During his internship at ROHM Semiconductor Europe, Leon works on a concrete project in the area of product development involving design, testing and simulation - a realistic task, common in an engineer's everyday life.
"My job is to develop an industrial power supply using transistors from ROHM," says Leon. "The finished product will demonstrate how well the transistors are suited for the task. I aim to find out, whether everything works as expected, whether the transistors can withstand the demanding tasks, and whether the power supply works better with ROHM products than with other existing industrial power parts," Leon adds.
How he solves the task is entirely up to him. His team at ROHM explained the project to him, along with a file full of technical literature. Now he has to complete the task on his own like a graduated engineer. But of course, he can count on support from his experienced colleagues in the Power Lab whenever necessary.
From Formula Student to the Power Lab
The topic is exactly his passion, because he has been interested in power electronics for a very long time. To be exact, since his whole studies. During this time, he also started to support Team Starcraft, the Formula Student Team at TU Ilmenau. There, he is responsible for the entire electronics of the team's e-racing car.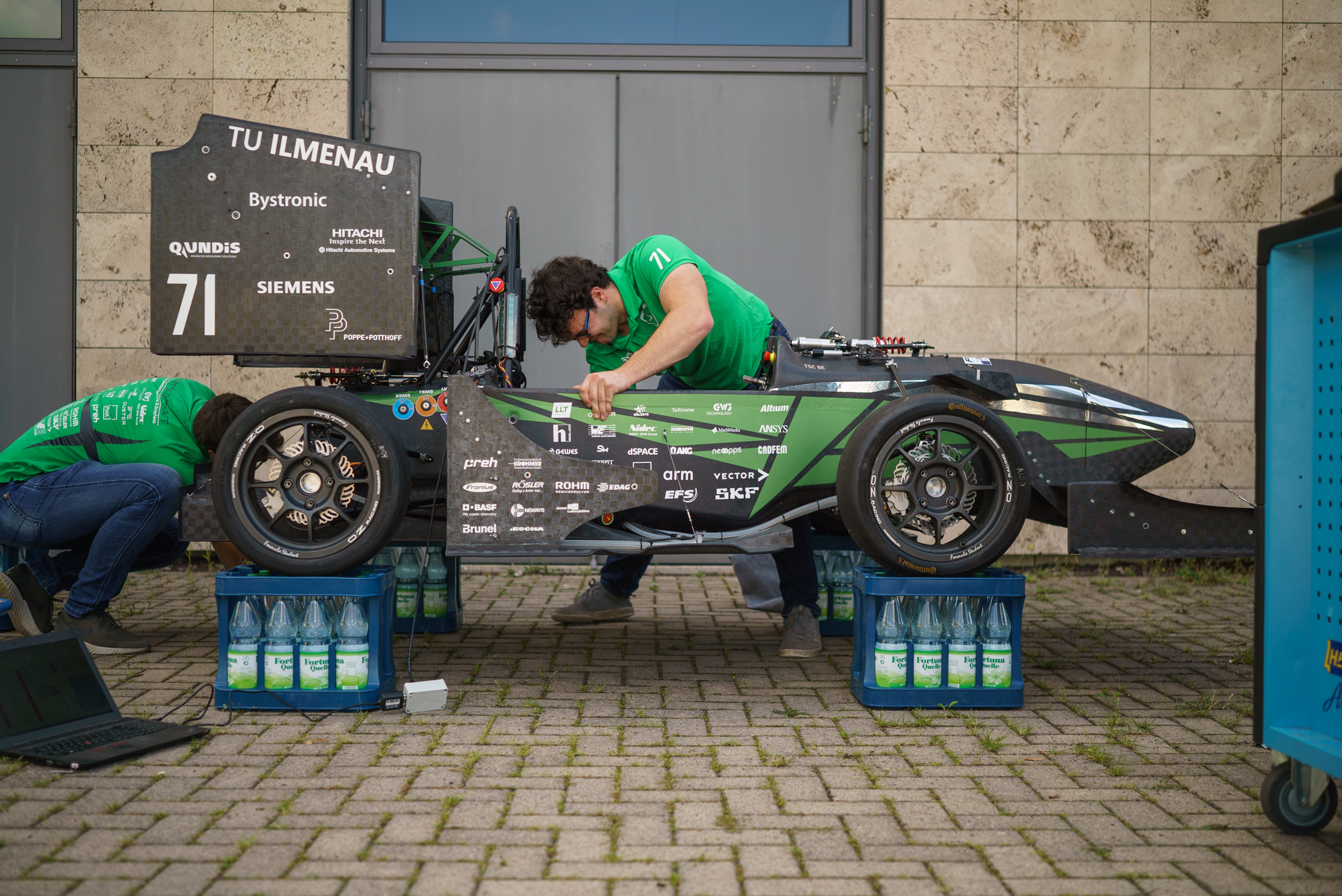 Ready, steady, go: Leon Loeser (r.) and his team Starcraft develop a competitive racing car as part of the Formula initiative.
The contact to ROHM Semiconductor Europe was established through the Formula Student initiative. For some time now, Leon has been using ROHM SiC MOSFETs in the powertrain of the vehicle. And ROHM has recently started sponsoring Team Starcraft with components, but also with technical advice from exactly those people who are now his co-workers in the Power Lab.
Tackling challenging Topics of the Future
Besides his commitment to Formula Student, Leon also sees power electronics as one of the most important technological topics of the future. "Against the backdrop of climate change, greater energy savings and efficiency as well as new methods of generating energy are competencies that must be tackled in the upcoming years," Leon states.
Leon sees renewable energies, particularly energy storage and conversion, as a key priority. "Batteries are not optimal for many applications and hydrogen has big disadvantages, too. Hence, there is a lot of potential for future engineers to meet these challenges," says Leon.
A Profession with many Facets
Even if these problems are solved, there will be new ones. "It never gets boring, because there are upcoming problems to solve every day. In our job there is always something new occurring," says Leon. These many facets make the engineering job attractive for Leon and for other young people. "As an engineer you can really change the world. Thus, I would like more young people to consider engineering."
After his internship at ROHM Leon will write his Bachelor Thesis and will continue his studies to graduate with a Master's or diploma degree. Thinking of his internship at ROHM, he feels well prepared for his next steps: "The atmosphere is good, my superiors and co-workers are nice, and I'm learning much about power electronics. This contains a lot of knowledge that I will need in Formula Student and in my future professional life."
And who knows: Someday Leon might starts to work for ROHM, too. In any case, he will develop technologies that will advance the world.