Back
Introducing leading-edge devices and solutions that contribute to solving social issues
11/08/2019
CEATEC 2019
ROHM exhibited at CEATEC which was held at Makuhari Messe (Chiba, Japan) from October 15 (Tue) to 18 (Fri) as a CPS/IoT Exhibition.
Our booth theme is 'Move Forward with ROHM Semiconductor'. We showcased proprietary technologies and solutions that contribute to solving social issues centered on Society 5.0 – based on the keywords of automation and high efficiency – with five corners: "Automotive Solution", "SiC Solution", "Analog and Motor", "Sensor and Wireless Communication" and "ROHM OPEN HACK CHALLENGE".
This time we introduce our booth highlights of each corner.
Automotive Solution
Semiconductor and electronic components are believed to be the key to achieve technological innovation in automotive systems which are seeing greater electrification, including powertrains and automated driving. We introduced the latest vehicle functions that are expected to be put into practical use by showcasing an updated cockpit demo incorporating our broad portfolio of automotive-grade semiconductor solutions.

SiC Solution
In response to the full-fledged adoption in recent years of SiC power devices, we introduced the latest products and solutions unique to SiC, from peripheral components such as control ICs to evaluation boards.
In addition, for the first time, we showcased an xEV demo that integrates various types of power devices. Customers came and saw application examples of SiC power devices and experience the energy-saving effects firsthand.

Analog and Motor
By leveraging the advantages of a vertically integrated production system and combining three analog technologies, circuit design, layout, and processes, ROHM develops class-leading analog devices.
For example, ROHM is the first to introduce Nano Cap™ power supply technology, which eliminates the need for capacitors, as one of Nano technology series. In addition, we showcased our latest analog technologies, including OpAmps and comparators featuring ultra-high noise tolerance characteristics.

Sensor and Wireless Communication
ROHM contributes to achieving Society 5.0 through an unmatched lineup of sensor and communication devices.
At CEATEC2019, we displayed smart solutions that solve logistics issues related to printing, storage, sorting, and shipping. (e.g. Label printers equipped with ultra-high-speed printheads)

ROHM OPEN HACK CHALLENGE
These days the electronic landscape is expanding to include prototyping and initial set development. ROHM facilitates engineers and creators to create new ideas with easy-to-use development kits, and has been promoting open innovation. "The ROHM OPEN HACK CHALLENGE" is one of activity. ROHM hosts this event as a manufacturing contest calling for prototypes and designs utilizing ROHM products.
At this CEATEC, we showcased five award-winning works of this event and one work created by Ms. Ikezawa who is a famous woman engineer and participated our event as a judge, in the hackathon event.

CEATEC 2019 celebrated its 20th anniversary this year. With the theme of "Connecting Society, Co-Creating the Future", 787 companies and organizations participated, with a total of 144,491 registered visitors, and the venue was crowded with many visitors every day.
ROHM also had a great opportunity to introduce our technologies and solutions to visitors from a wide range of industries, occupations, through demonstrations. Thank you very much for coming to our booth!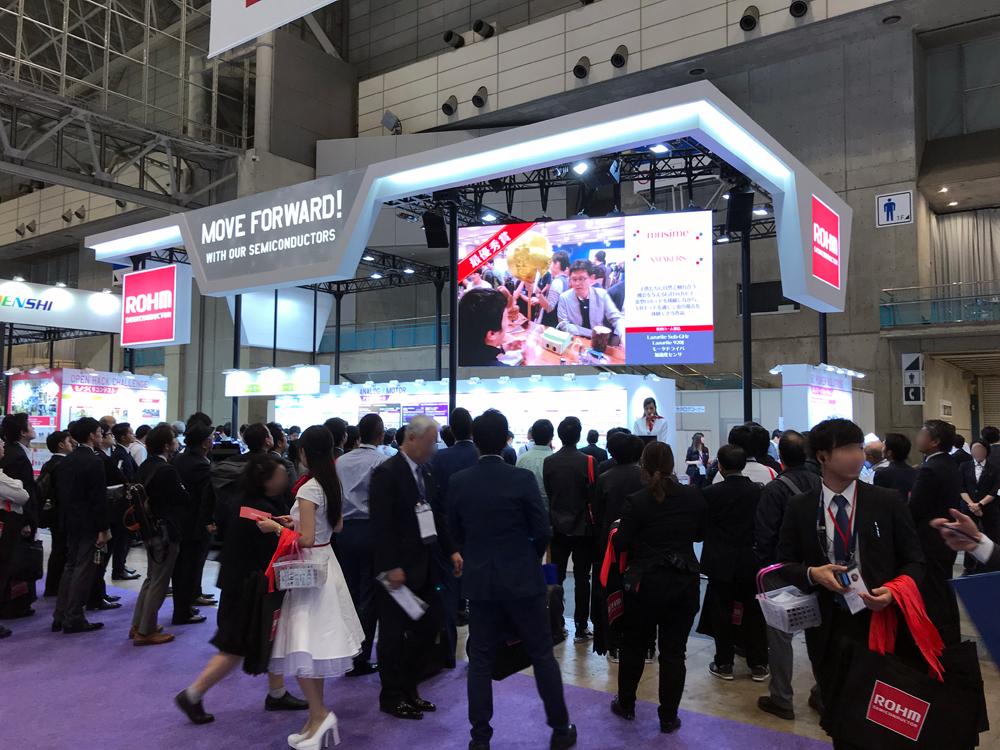 ROHM will continue to develop products that meet customer needs in all fields where semiconductors and electronic components are required.