Back
Striving for better sound -  ROHM Keys for Developing Superior Audio Solutions
08/02/2018
The audio equipment industry has undergone rapid changes in recent decades. In the 1980's, digital CD quality signals became mainstream, replacing the analog signals of LP records and cassettes. Then in the 2000's data compression technology such as MP3 was introduced that allowed listeners to carry thousands of songs on a compact device. This was followed in the 2010's by high capacity HDDs and flash memories that support high-definition lossless audio.
Founded in 1958 as an electronic components manufacturer, ROHM has been developing cutting-edge audio components that meet market needs ahead of these industry changes for over 40 years. Naruhiro Okamoto, Manager of the Audio Development Department, was tasked with developing ROHM's first ICs for CDs and compressed audio since 1994 and now manages the development of high-fidelity ICs for high resolution audio. Involved in developing ROHM audio ICs for over 26 years, he has witnessed the evolution of the industry first-hand.
We asked Okamoto why sound quality is such an important element for ROHM's audio devices and how he and his team became experts in all aspects of audio solutions manufacturing.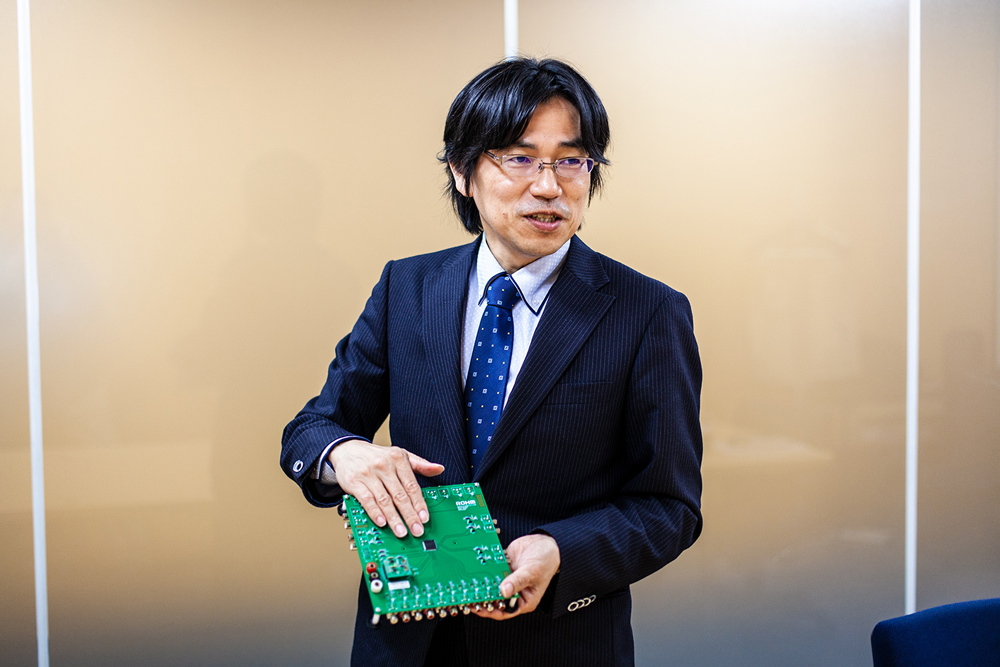 In the company's audio lab in Shin-Yokohama, at the outskirts of Tokyo, we were able to experience the change of sound quality by comparing two ICs: one designed specifically for sound quality vs a standard audio IC. As a result, we discovered that parameters such as the elements position and the choice of wiring materials can make a discernible difference in sound quality.
A thorough investigation into all aspects of design and manufacturing allowed us to identify 28 distinct parameters that affect sound quality and establish sound quality design technology. Design parameters related to circuit and layout along with product parameters regarding wafers and packaging are optimized to create the ideal sound quality (i.e. in terms of resolution, realism, and power). Okamoto explained how people are moved by sounds and music.
In the case of music played in a hall, in addition to sounds coming directly from the musicians' instruments, the human ear detects sounds reflecting from the walls and ceiling. It is the time difference between these sounds and the way trailing notes vanish that contribute to the listener's impression of the size and atmosphere of the hall. However, in order to achieve optimum expressiveness it is necessary to have both low-noise characteristics that allow music to be heard until the last note without being buried in noise as well as low distortion and high resolution essential for accurately reproducing the image (localization) and timbre (realism/depth) of musical instruments. Improving sound quality makes it possible for listeners to feel the presence of even small sounds as if they are actually listening in a hall.
To achieve a target sound quality, it is important to listen to slight differences in sounds. Sato, a member of Okamoto's team in charge of sound quality, conducts evaluations at each development stage and gives advice on how to make improvements.
"Development engineers and sound quality managers need to work closely together. This involves not only communicating with each other, but conducting joint evaluations and sharing results in order to develop high-fidelity products," says Okamoto.
Most audio equipment manufacturers would probably say that sound quality is the most important factor when selecting audio devices. To continue to be the first choice for many of our customers, we must continue to refine and improve our sound quality design technology. With this in mind, Mr. Sato continuously performs a variety of evaluations to find new parameters that affect sound quality. ROHM believes that these efforts will pay dividends and be of benefit to customers going forward.
According to Okamoto, audio equipment manufacturers around the globe, especially in Japan and Europe, have expressed interest in sound quality. ROHM performs all processes, from silicon ingot pulling and photomasking to packaging, in-house, and differentiates itself from competitors through a vertically integrated system that makes it possible to change various parameters to achieve the target sound quality for IC. This has proven to be a major selling point for customers.
Besides an integrated production system, ROHM adopts a consistent development system in which one engineer is involved in production from start to finish. Meanwhile, at other companies a horizontal division of labor is utilized that employs specialized engineers for each development process.
"ROHM's culture allows the development staff to reflect customer needs and requests – along with their own ideas – into the products, giving them a sense of ownership and pride," explains Okamoto. "ROHM engineers are responsible for the entire process, from product planning to mass production. They familiarize themselves with the products, and as a result are relied upon by knowledgeable customers. This allows our team to talk with engineers of audio equipment manufacturers about sound quality from the same perspective, giving us a leg up on our competitors."
Okamoto and his team often attend live performances held by the Rohm Music Foundation and ROHM Theatre Kyoto in an effort to continue to improve sound quality. The belief is that, by experiencing the atmosphere off the hall and performance of the orchestra first hand, engineers will be able to offer superior audio devices that cannot be matched by competitors.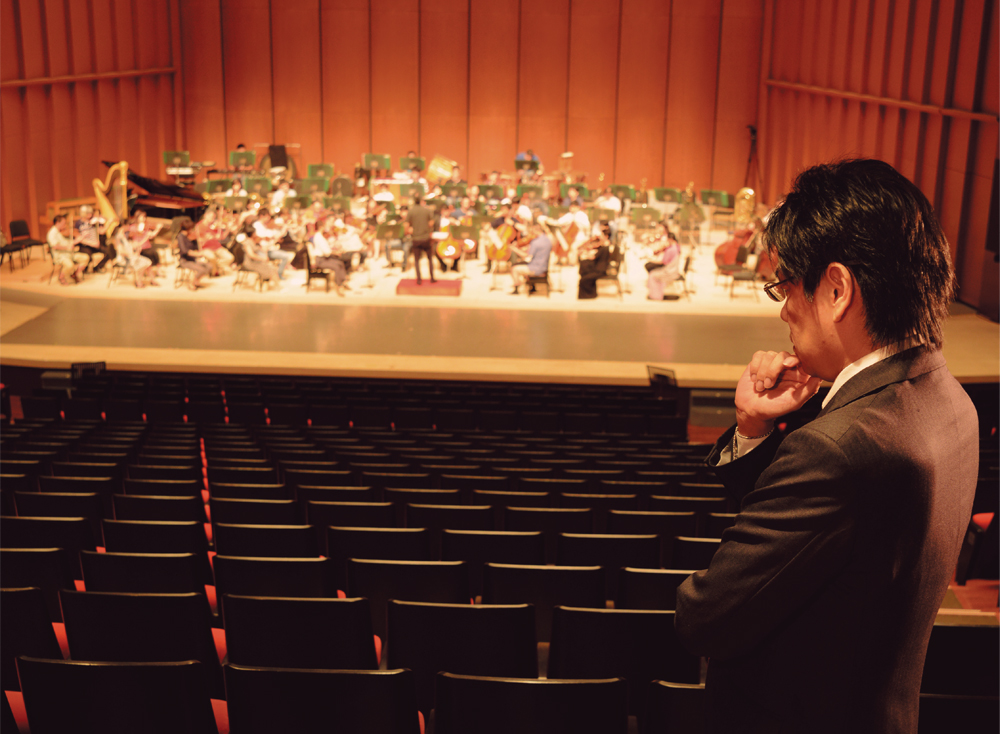 ROHM engineers are focused not only on technology, but market trends as well. Products are developed in accordance with market needs, with the goal of becoming a one-stop shop for customers. Okamoto's team develops all types of audio-related products, from digital SoC to analog amps, and offers chipset solutions. To this end, it is important that engineers work together beyond their group, division, and even department.
"To make an attractive proposal, it is important to proceed with our business activities while also taking into account the client's needs," explains Okamoto. "Each of our customers has different challenges and requirements when it comes to sound quality, and it is our role create products that meet their expectations and needs."
ROHM's approach to improve sound quality involves leveraging superior analog device technology with audio expertise to offer solutions suitable for evaluation and adoption not just in Japan, but all over the world. And going forward, ROHM will continue to develop products that meet market demands and focus on activities to improve corporate branding and increase product exposure.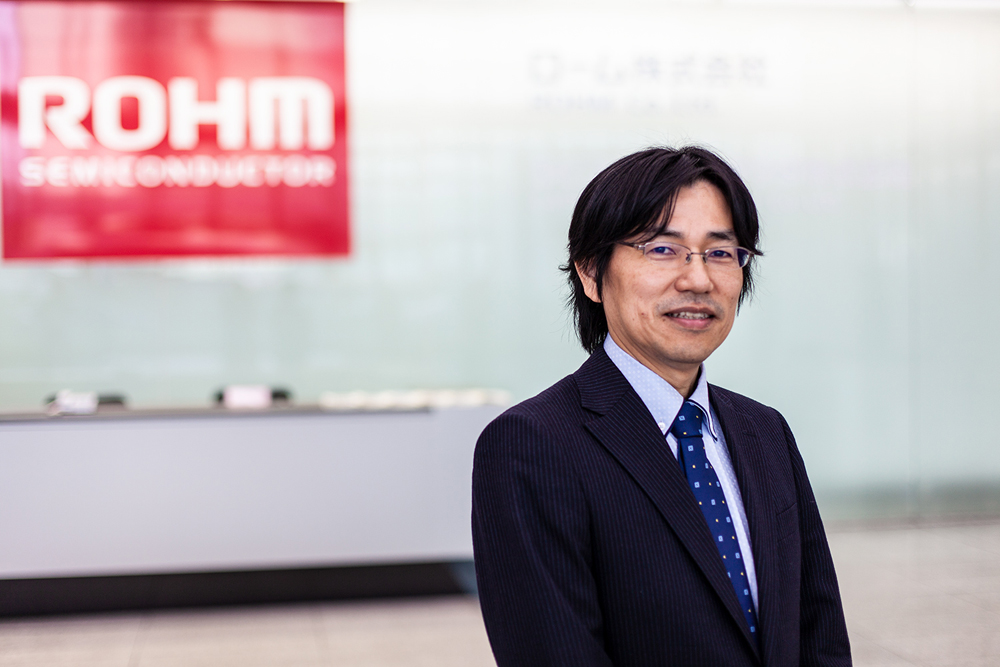 Column:
In May, ROHM showcased its latest innovative audio technologies at a major audio exhibition in Munich, Germany. Many European customers stopped by and experienced ROHM's broad lineup of high quality audio solutions. For more details, click here.