Pushing limits
ROHM and Venturi strive for electric car future
The FIA Formula E Championship received a warm welcome in the United States in July as its inaugural race hit the streets of New York. Fans from across the capital as well as other parts of the United States and abroad packed the stands to soak up the atmosphere of the thrilling, high-octane yet environmentally friendly race.

There was much for the crowd to celebrate. Set against the iconic backdrop of Lower Manhattan and the Statue of Liberty, the July 15–16 Brooklyn race became the first of its kind in modern history to take place within the five boroughs of New York City.

As the race utilizes electric vehicles powered by lithium-ion batteries, it is efficient, clean and silent, making the competition not just a great example of cutting-edge technology or top-class entertainment; Formula E and its teams are driving the development of electric mobility for a sustainable future.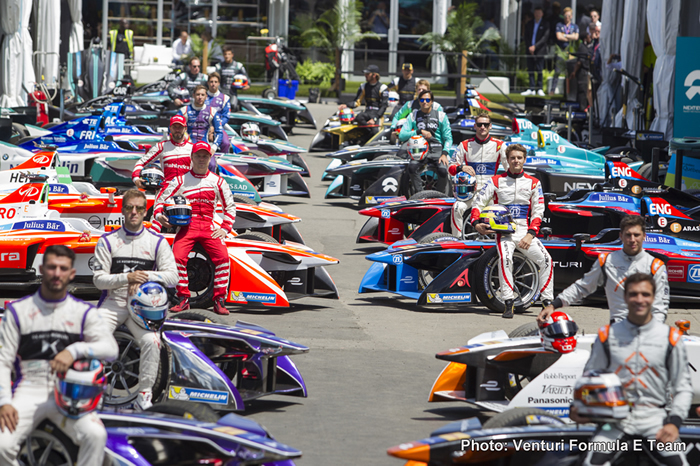 Unsurprisingly the championship race has attracted world class innovators and sparked collaborations between sport and technology. Formula E team Venturi began a partnership with leading Japanese power semiconductor manufacturer ROHM ahead of the first race of the 2016/2017 season in Hong Kong, in October 2016.

We caught up with the Venturi team to uncover the reasons for its alliance and what it expects in the field of electric vehicles.

Gildo Pallanca Pastor, CEO and owner of Venturi Automobiles, has long been an investor in the development of electric mobility and believes today's innovation in the field, including at the Formula E Championship, heralds a future with electric cars.

"In 2000, after racing cars for 15 years, I bought Venturi with the idea to build my own sports car," he says. "To build the best one, I had to use the best motor ever put into a car: an electric motor."

"Formula E was part of our company manager's vision, in 1999. He went to see Alejandro Agag [CEO of Formula E Holdings], who was able to turn the use of electric cars into a terrific race and build a fantastic challenge," he adds.

As each car is powered by a battery with a driving force of 28kWh of electric power, the challenge for each team is to most efficiently use that energy to boost the distance the car can run, all the while considering the car's weight.
For ROHM, the answer was to use its leading technology to help make Venturi's cars smaller, stronger, and faster. The company developed solutions made from silicon carbide (SiC), a revolutionary material that can operate at high temperatures and withstand higher voltages and large currents by reducing switching losses.

"Thanks to ROHM we have achieved the goal of having the best components, to incorporate an inverter of the lightest weight and volume," Gildo Pallanca Pastor adds. "The Venturi Formula E car is a car for today's challenges. No other race car is so advanced. We are very proud to incorporate ROHM's technology into it; the car is one of a kind."

M. Franck Baldet, chief technology officer of Venturi, agrees. "Working with ROHM is fantastic because we have the opportunity to work with engineers who are passionate about electronic components and have the drive to make the best possible products that can be used in electric cars," he says.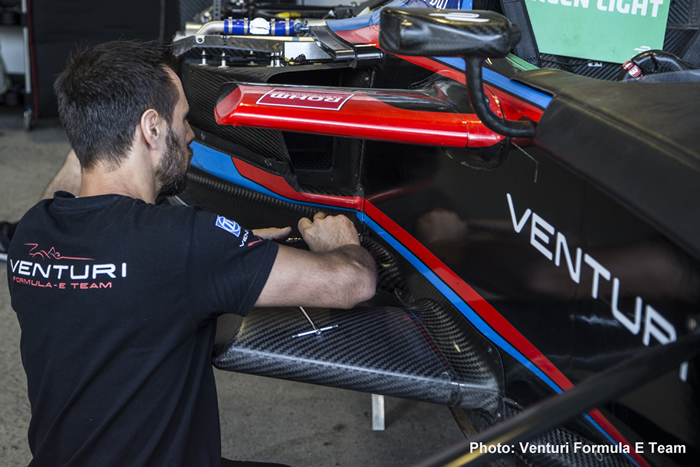 M. Franck Baldet points out that success in Formula E is "all about energy optimization versus lap time." He says that, thanks to the partnership with ROHM, Venturi drivers "have easily quantified how much energy they gain with the new modules and therefore have reduced their lap times."

In addition to reducing the car's weight and rotational inertia while increasing efficiency, ROHM's SiC technology reduces the cooling circuit, thereby further lowering the weight of the car.

As Season 3 closed with the final race in Montreal, Canada, on July 30, Venturi and ROHM celebrated their best win: 5th place in both the super pole and race results in Monaco in May.

There will be little rest time, however, as testing is ongoing for a new package in generation 1 cars for season 4 as well as in generation 2 cars for Season 5. The Venturi team believes none of these improvements would be possible without the cutting edge SiC technology powered by ROHM.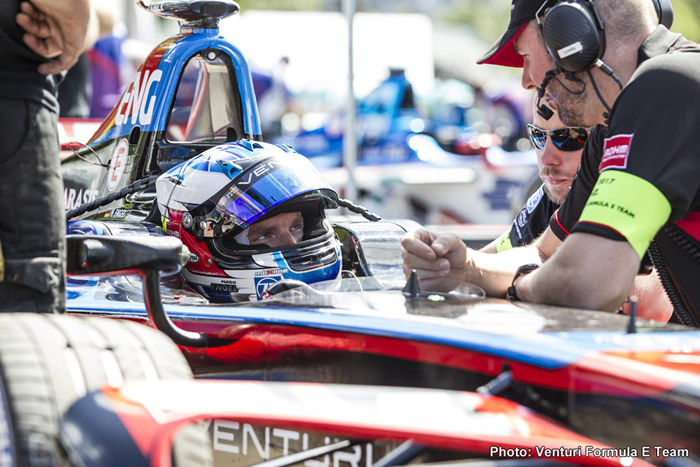 "Our relationship with ROHM is essential for us to bring the Venturi Formula E team to the top [of the leader board]," says M. Franck Baldet.

On Venturi's side, it also plans to use the know-how gleaned from its experimental work in testing the limits of electric vehicles, to improve its chances in Formula E.

In September 2016, the Venturi Buckeye Bullet 3 broke the world land speed record for an electric vehicle, clocking an impressive average speed of 341.4 mph, on the Bonneville salt flats in Utah. Over three years, the company also developed The Antarctica, a zero-emission vehicle than can be operated in -50°C, to give scientists in the Antarctic access to previously out-of-bounds research zones.

Ultimately, though, Venturi hopes that its partnership with ROHM will drive social change in the development and uptake of electric vehicles. "Formula E is a championship that acts as a technology accelerator," explains M. Franck Baldet. "What the electric car industry is doing in four years, we are working to do in less than one year. We can design, test and run the next generation of electric cars with high-level components. And the force of electric-vehicle technology is one that can be quickly and easily transferable from track to road.