Always Moving Forward
ROHM and the evolution of the automotive industry
With the successful wireless transfer of electric power from a car's battery to a motor attached to each wheel, in May, the future of next-generation vehicles looks set to continue unabated. This latest breakthrough will allow vehicles to receive a charge — through vehicle sensors and control systems — while driving in a charging lane embedded with power transmission coils. Experts suggest that eliminating the need for large-capacity batteries is a key step in the proliferation of electric vehicles.

Although the automotive industry in recent years has been undergoing rapid advancement, its development is by no means new. Since their invention, cars have evolved in response to increasing requirements for safety, comfort, and the environment. ROHM has been working continuously on the evolution of vehicles for more than 10 years.

Founded in Kyoto, Japan, in 1958, ROHM was the first Japanese semiconductor manufacturer to establish a presence in Silicon Valley, California. Today ROHM has operations in four continents and 22 countries. Its high-performance ICs and power devices are essential in the automotive industry's move towards electronification.


We met with Yoshiharu Sakai, manager of the Body & Powertrain Department in ROHM's Automotive Strategy Division, to find out what lies ahead in the market as well as how and why ROHM is poised for change.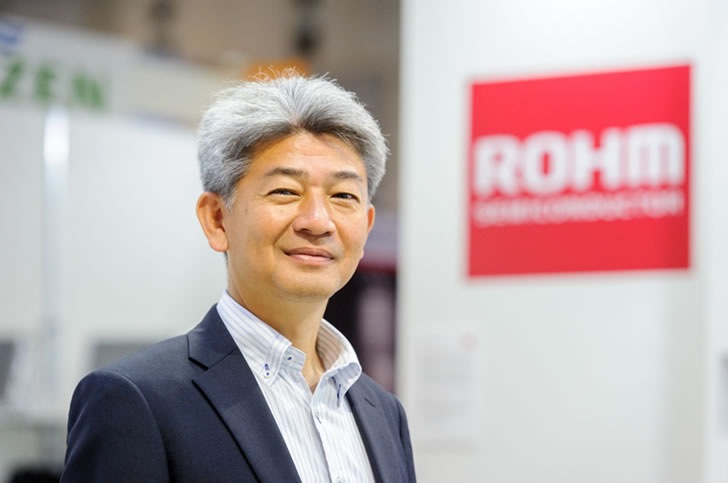 As of March 31st, 2017, the automotive sector accounted for 31% of ROHM's net sales, and Sakai is hopeful for further growth as the sector continues to develop. Of those net sales, 58% was derived from in-car infotainment systems, 20% from powertrain, 14% from body, 5% from other areas, and 3% from advanced driver assistance systems (ADAS). ROHM expects an increase in sales related to environmental response (xEV) and ADAS.

Not surprisingly, after nearly 10 years in the manufacturing quality control department, Sakai believes success in the field of automation can be achieved only through high quality and technical innovation.

To ensure the superior quality and stable supply required for the automotive industry, ROHM utilizes a vertically integrated system – a key advantage. All manufacturing stages are carried out completely in-house, from silicon ingot pulling and photomask production to wafer processing, lead frame molding, and packaging.

"Although some companies are increasingly outsourcing the testing and packaging processes, we refuse to do this in order to ensure traceability," says Sakai. "Our vertically integrated system is ideal for the manufacture of automotive parts, giving us the flexibility to precisely respond to customer needs."

Although ROHM is a semiconductor company, Sakai has learned during his career at the company that communicating directly with automakers is important. According to Sakai, the increasing competitiveness of SiC devices has presented ROHM with an opportunity to communicate with customers directly and promote its broad line-up of power products.

ROHM's communication with automakers is not limited to within Japan. Global efforts are a part of its DNA. As of March 31st, 2017, 74% of its employees are based overseas. According to Sakai, his experience working in ROHM's Korea Design Center for four years has proven to be valuable in dealing with the continued globalization of the automobile industry.
"I was able to experience a different culture," says Sakai. "Decision-making was very quick, with decisions on products carried out on the spot. I realized that we needed proposals based not only on products but also on the benefits to the customer's application. That time was a period of rapid growth for ROHM, making it a great opportunity to learn about different approaches for maximizing business performance on a global scale."

Another priority in the automotive industry is reducing environmental impact. Electronics is playing an increasing role in the transition from gasoline-powered to hybrid- and following application expansion.electric-powered vehicles. In a broader sense, the evolution of semiconductor components will become essential to reducing energy expenditure and waste.

In response, ROHM manufactures silicon carbide (SiC) power devices , which are distinctive products. They are made from an entirely new, revolutionary material by combining silicon and carbon.SiC is emerging as the most viable candidate in the search for a next-generation low-loss element due to its low ON resistance and superior characteristics at high temperatures. These unique properties make SiC ideally suited for not only on-board chargers but also high efficiency DC/DC converters and inverters in electric and hybrid vehicles.

In October 2016, ROHM became the official technology partner of Venturi, a racing team in Formula E , the F1 for electric vehicles.ROHM's SiC power devices were adopted in the inverter unit to reduce the size and weight of the heat dissipation system by minimizing power conversion loss, resulting in a 30% reduction in inverter weight. Formula E showcases these state-of-the-art technologies and increases awareness and interest in electric cars, stimulating the industry's further development.

ROHM considers not only the environment but also safety. Recently, ADAS is attracting greater attention in the automotive market. Although there are still a number of challenges that must be met, Sakai believes that the day is coming soon when automated driving as seen in science fiction becomes reality.

"Globally, we feel that there is still a great need to prevent accidents, such as those that occur due to the driver mistaking the accelerator and brake," he explains. "We believe that the evolution of our products is a way to achieve this goal, by considering the key needs of consumers: safety, comfort, and the environment.

ROHM's automotive chipsets for high-resolution displays meet the needs of the ADAS market. In recent years, the formation of liquid crystal panels such as clusters (instrument panels), car navigation systems, and electronic mirrors has rapidly advanced. In addition, demand for larger, higher precision panels has been steadily increasing following application expansion. ROHM's chipset is the first in the world to support functional safety for liquid crystal panels. Even in the unlikely event that a malfunction occurs due to a failure of the electronic system, the driver can immediately recognize the anomaly, contributing to safer driving.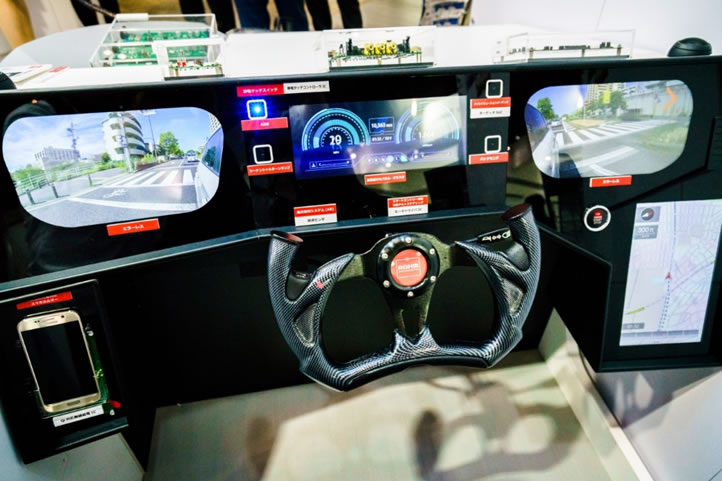 In the course of creating and cultivating pioneering technology, ROHM has developed a number of industry-first products. One of ROHM's advantages is its broad portfolio that makes it possible to propose optimized solutions for a variety of customer demands. And to lead the rapidly evolving automotive market, Sakai believes it is important to continue to meet the needs of society through technological innovation.

Sakai and his team also predict that in addition to using wireless charging technology for in-wheel motors, vehicles of the future will be able to connect to the road and even each other. Wireless communication technology is expected to be able to verify the condition of roads, bridges, and traffic congestion, and even locate the position of other vehicles.

"Cars will undergo drastic changes based on the concepts of safety, the environment, and comfort. My personal goal is to contribute to the advancement of the automotive sector through product planning that can quickly capture market trends," says Sakai.

ROHM's passionate, forward-thinking employees will be able to keep up with the continuing evolution of the industry and lead ROHM to further growth.