Progress in power electronics never stops
The synergistic effects of power and analog takes development to new heights
Synergy from advanced power and analog technologies

Innovative control chips usher in a new era in power devices

GaN-type power devices boost the performance of low- to medium-voltage applications

Further highlighting the effects of power and analog through integration
Synergy from advanced power
and analog technologies
 Power technology that supports high voltages and currents complements analog technology for freely manipulating power and signal waveforms.
 The control accuracy of power supply systems is further improved by combining ROHM's advanced analog expertise with cutting-edge power technology. However, in order to maximize the potential behind the latest power technology, control ICs incorporating advanced analog technology is needed.
 Synchronizing the progress of power and analog technologies creates a platform for innovation which is expected to dramatically improve efficiency while reducing the size of power and power supply systems..
 There are very few semiconductor manufacturers working on power technology innovation utilizing new materials such as SiC while leveraging superior analog expertise. ROHM is well positioned to drive innovation in power and power supply systems.
 Breakthroughs in the power electronics field is being increasingly demanded by the latest and emerging applications, such as the electrification and automation of vehicles, information revolution linked to Industry 4.0, and effective use of renewable energy.
 Going beyond merely synchronizing the evolution of power and analog, combining the two creates synergistic effects that puts ambitious goals within reach. Integrating the resulting solutions into a single module or package makes it possible to achieve higher performance, improved usability, and increased reliability in a smaller size – putting the future in greater focus. We will continue to provide breakthrough semiconductor solutions to customers trying to create novel power and energy management systems.
Combining leading-edge power technology with market-leading analog expertise contributes to the advancement of power systems instrumental in addressing a variety of social issues throughout the world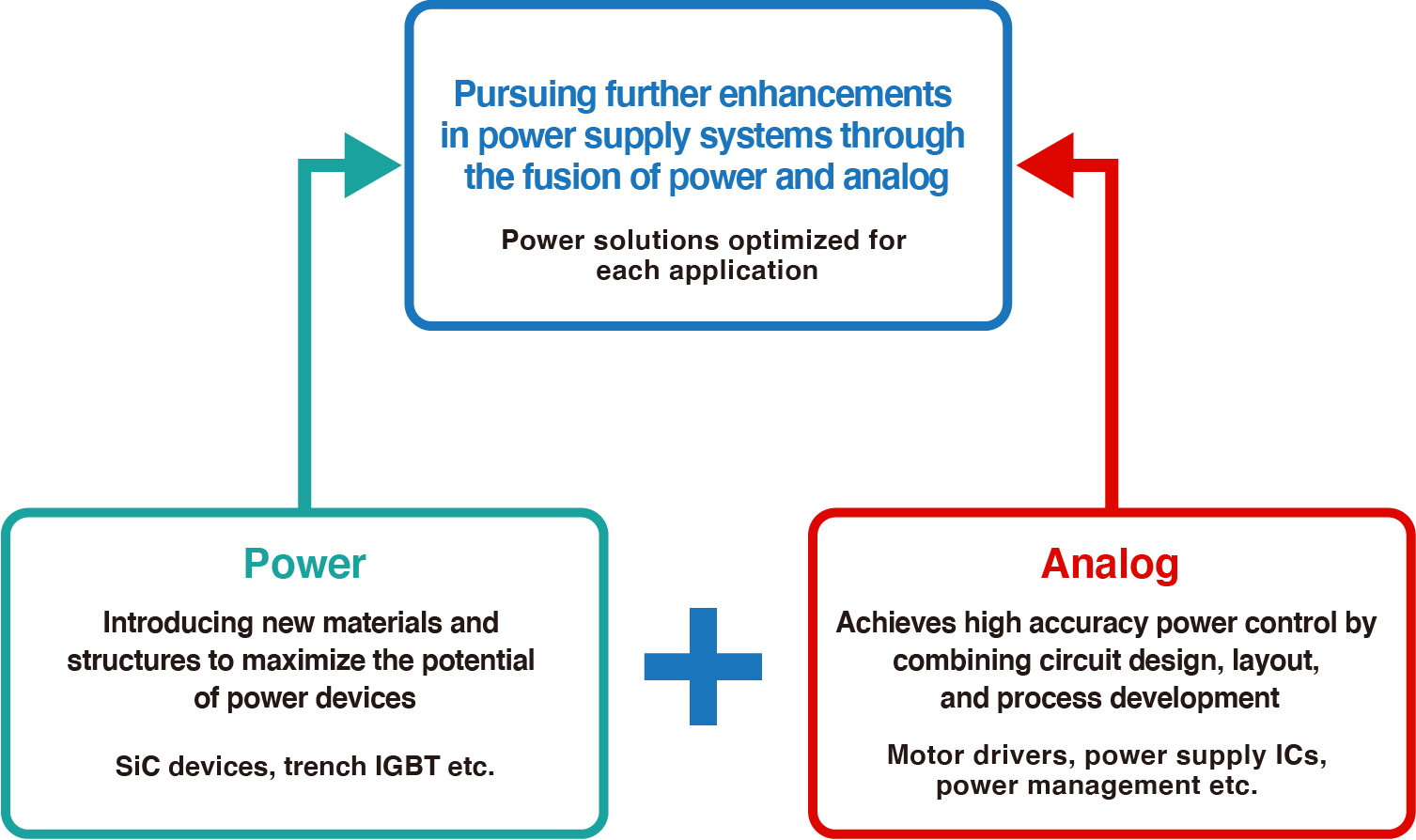 Innovative control chips usher in a
new era in power devices
 ROHM already offers a wide range of solutions that combine sophisticated power and analog technologies. Here we will introduce a few of them.
 First, we developed an AC/DC converter control IC optimized for driving SiC MOSFETs that maximize performance by enabling high-speed operation under high voltage conditions. These products have already been adopted to efficiently supply power to monitoring equipment and cooling fans in factories. Future applications to improve efficiency in IoT, edge computing, and other areas will be considered.
 Under the Industry 4.0 concept, IoT systems play a central role in manufacturing environments. In order to use sophisticated information more effectively, edge computing is increasingly being utilized to process and convert sensor data at the production site. When installing high-performance computer in the field, power supply systems capable of supplying low voltage DC power for driving semiconductors are needed. High voltage 3-phase AC power is used to drive manufacturing equipment and machine tools, such as 200V in Japanese factories, 230V in the US, and 360V to 690V for plants in Europe and Asia. And high efficiency converters are needed to power semiconductors from high-voltage AC power supply equipment in these factories.
 Configuring high power converters with SiC MOSFETs dramatically increases efficiency while reducing both size and weight. However, until now control ICs capable of maximizing performance were not available. This is because the existing control ICs were developed for mainstream Si power devices.
 In response, ROHM developed a pseudo-resonance control IC capable of high efficiency control with low noise compared vs PWM control typically used in conventional Si-based inverter circuits. This allowed us to succeed in further enhancing the performance of SiC MOSFETs. The quasi-resonance method was only made possible using proprietary advanced analog technology. Power conversion efficiency has been improved by as much as 6% (in 50W class power supplies) compared with solutions that combine existing control ICs with SiC MOSFETs. At the same time. heat sinks required for Si-based solutions are no longer necessary, reducing both size and weight.
 ROHM's lineup of SiC MOSFETs for converter applications includes both 1200V rated types for Japanese and US markets as well as 1700V models for factories in Europe and Asia. Evaluation boards for each that incorporate a quasi-resonant AC/DC converter control IC are also available. This is expected to contribute to greater efficiency and miniaturization at production sites around the world. And in anticipation of further performance enhancements in the future, ROHM is also promoting higher switching frequencies and other characteristics by achieving a higher level of integration between power and analog technologies.
The fusion of power and analog delivers solutions that bring out the full potential of new-material power devices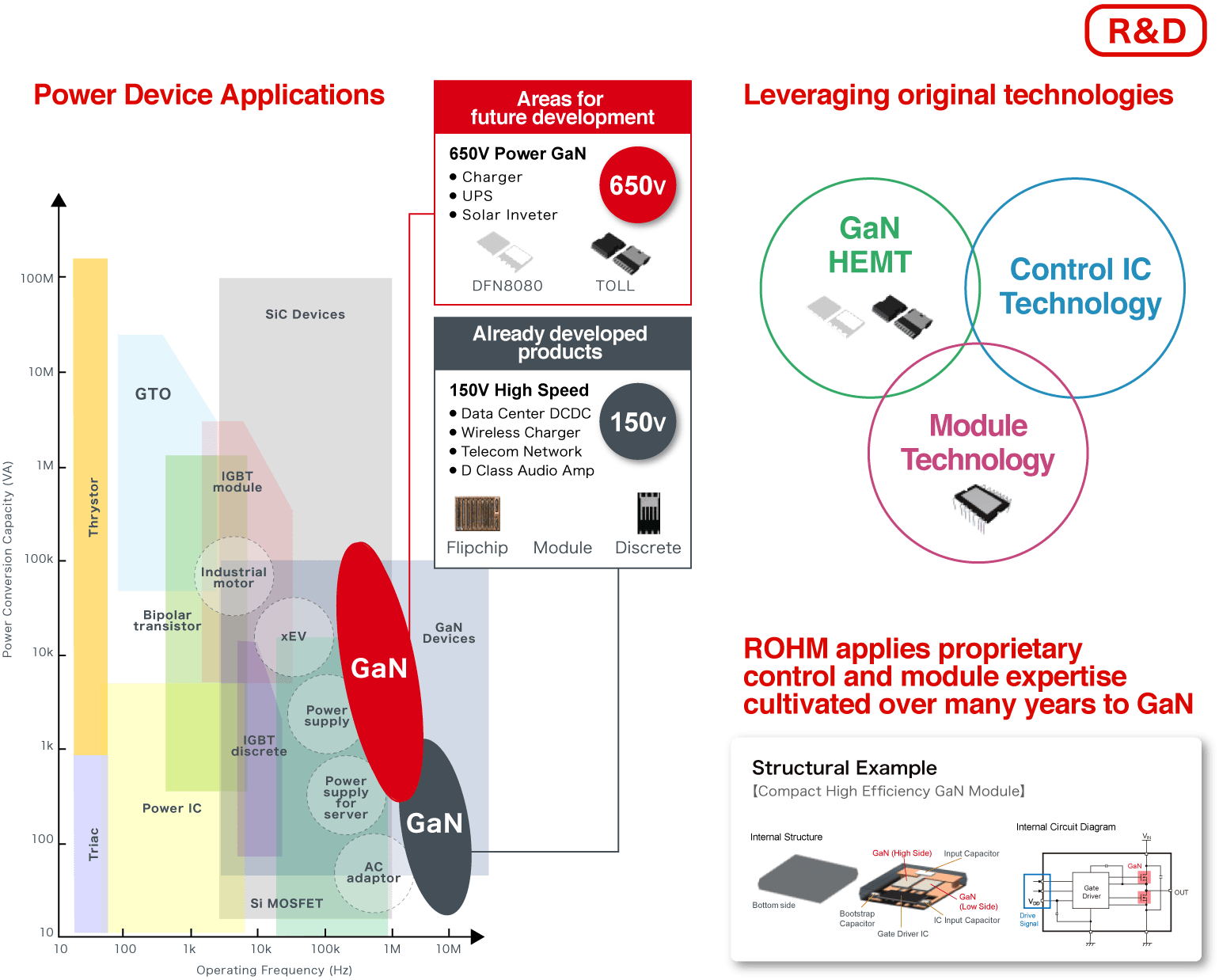 GaN-type power devices
boost the performance of low- to medium-voltage applications
 ROHM is also strengthening its involvement with GaN (Gallium Nitride) based power devices, a new material garnering interest along with SiC. We have been pursuing R&D of GaN HEMTs (High Electron Mobility Transistors) in the 150V range. And in 2018 we partnered with GaN Systems Inc. to expand research into 650V GaN HEMTs. Besides the joint development of GaN power devices, ROHM plans on collaborating with GaN Systems to promote application development that takes advantage of GaN characteristics. By applying SiC for applications requiring higher breakdown voltage and GaN for sets demanding high-speed operation, ROHM can propose optimized solutions to customers by developing control ICs specialized for each type.
 GaN power devices are expected to be adopted in 650V class UPS and solar system inverters along with AC adapters and wireless power supply systems in the 150V range. In any case, the operating frequencies will be higher than in systems utilizing existing Si power devices, making it possible to achieve higher efficiency in smaller form factors. This requires control ICs that support the high operating frequencies of GaN devices. ROHM is leveraging advanced analog technology such as its proprietary Nano Pulse Control capable of ultra-short pulse widths in the development of solutions that maximize GaN HEMT performance.
Further highlighting the effects
of power & analog through integration
 Modularization and monolithic (single-package) technologies play an important role in improving the performance of complex and advanced circuits while reducing size/weight and BOM. Proper integration is also crucial for enhancing reliability and ease-of-use. ROHM possesses a number of modularization technologies suitable for various use cases and device characteristics. Modularized solutions that leverage the synergistic effect of power and analog are expected to make cutting-edge technologies available to more and more applications.
 ROHM has developed an AC/DC converter IC that incorporates a 1700V SiC MOSFET. The 1700V SiC MOSFET and a quasi-resonance type drive control IC optimized for SiC are integrated into a single package. The result is up to 8% higher efficiency with less heat generation than conventional Si-based solutions. For example, configuring a flyback converter circuit using Si devices requires an AC/DC converter IC, MOSFET, 2 diodes, 3 chip resistors, and a large heat dissipation fin. In contrast, ROHM's new SiC AC/DC converter IC provides the same functionality and performance in a single module.
 Presently, in the R&D stage we are developing a compact high efficiency module that integrates a high side and low side GaN HEMT, gate driver IC, and three capacitors required to configure a half-bridge circuit.
 ROHM creates solutions that combine the strengths of power and analog featuring unmatched performance in a user-friendly form factor. Stay tuned for more innovations from ROHM in the future.
Developing modules
integrating GaN devices and peripheral chips