ROHM marks the 60th Anniversary
Dear customers, shareholders and employees,
I am delighted to announce that on 17th September of this year ROHM commemorates the company's 60th anniversary. The company was first established in Kyoto by Mr. Kenichiro Sato in 1958 as a resistor manufacturer named "Toyo Electronics Industry Corporation" and began producing carbon film resistors. In 1971, the company opened offices in Germany, and Silicon Valley (US) where it was the first Japanese firm to do so. 10 years later it was renamed ROHM.
Focusing on our customers' demands from the very beginning, ROHM grew its revenue with ICs, Transistors and Diodes. We have accomplished a lot together during the past 60 years.
The future is what matters now: ROHM is engaging in the world of power electronics as part of the revolution in future mobility and industry 4.0. We will continue to emphasize quality products in large volumes and help to solve the challenges of our modern society. The company mission, which has accompanied us right from the start, remains the cornerstone for our future activities.
ROHM is well positioned to pursue its growth strategy in the Automotive and Industrial segments and disciplined in generating profit to bring new technologies and world leading products to our customers.
Let me thank you for your contribution, loyalty and confidence.
ありがとうございます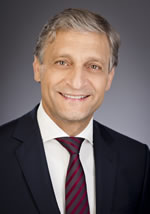 President of ROHM Semiconductor GmbH
Christian André
Related link:
Company History