Murata Adopts Powervation's Digital Control Architecture for Latest 25A PoL DC-DC Converter

Murata today announced the first in a series of Point-of-Load (PoL) non-isolated DC-DC converters based on the Digital Control Architecture from Powervation. The DOSA compatible OKLF 25A PoL has been designed to address the industry's growing requirement for low voltages (1.25V and less), increased current and power densities, fast transient response times, and the need for a tightly regulated DC output voltage. The OKLF 25A PoL is ideal for powering the latest FPGAs and ASICs used in networking, telecommunications, and computing applications.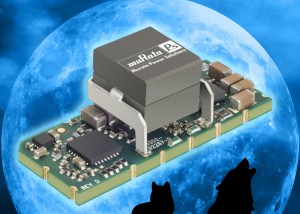 The first device in this new series is the OKLF-T/25-W12N-C. This PoL converter has been developed around a multi-processor System-on-Chip (SoC), digital power management IC from Powervation. Proprietary algorithms have been developed to optimize the performance under the most demanding applications, helping the power system engineer meet tight development (time-to-market) schedules. The converter delivers a maximum of 25 amps at 1.2 VDC out, when operating up to +70 degrees C with a 200LFM airflow. Also, this model has been designed to operate over a wide input voltage range of 6.5 to 14 VDC. The OKLF 25A PoL power converter is an ideal option for power system engineers who require output stability under all operating conditions, industry leading efficiency, and a pin-programmable output voltage. Vout can be set in the range 0.69V to 3.63V using a single external resistor.
The OKLF series has an ultra-fast dynamic load response feature that automatically compensates for various external conditions including capacitive loading, current steps, temperature, input voltage, and Vout setting.
The use of Powervation's synchronous buck controller IC ensures industry-leading performance in the 25A class of PoL converters. The design incorporates Murata Power Solutions' proprietary thermal management techniques, custom magnetics, and several circuit protection features.
We are excited to offer this advanced 25A PoL converter to power system design engineers, as it provides them with flexibility and options to improve power density, performance, and overall system costs," says Bill Smith, Director of Marketing, Board Mount Power, for Murata Power Solutions. "We see our OKLF 25A converter as a means to address the ever-growing requirements for powering next-generation ASICs and FPGAs while meeting the requirements for increased power densities in networking applications."
About Murata Power Solutions
Murata Power Solutions (www.murata-ps.com) is headquartered in Mansfield, Massachusetts, with over 1,300 employees worldwide. Murata Power Solutions designs, manufactures and distributes DC-DC Converter, AC-DC Power Supply, Magnetic and Digital Panel Meter product lines, and offers these products in custom, standard and modified-standard variations. Murata Power Solutions. products are typically used within electronic applications serving major global market sectors including telecommunications, computing and industrial controls.
Murata Power Solutions is a division of Murata Manufacturing Co., Ltd., a worldwide leader in the design, manufacture and sale of electronic components and power supply modules. Murata's devices are found in a wide range of applications including consumer and automotive electronics, and wireless devices. The company has employees and manufacturing facilities throughout the world.