High Brightness 1608 Size Single Rank Chip LEDs
& The World's Smallest*1 Reflector-Type RGB LED

The World's Smallest*1 Reflector-Type RGB LED
*1 ROHM November 2016 Survey
■ Features
Wide color range and superior color mixing provide greater display flexibility
Sulfuration Resistance + Longer Life + High Reliability
High ESD resistance eliminates the need for a Zener diode
■ Lineup
Part No.
Absolute Maximum Ratings
Electrical-Optical Characteristics
Per-
missible
Loss*1*2
PD(mW)
Forward
Current
IF(mA)
Peak
Forward
Current
IFP(mA)
<Duty
1/10,
1kHz>
Reverse
Voltage
VR(V)
Opera-
ting
Temp.
Topr
(°C)
Storage
Temp.
Tstg
(°C)
Forward
Voltage
VF
Reverse
Current
IR
Emission
Wavelength
λD
Luminosity
Typ.
(V)
IF
(mA)
Max.
(µA)
V
(V)
Typ.
(nm)
IF
(mA)
Min
(mcd)
Typ.
(mcd)
IF
(mA)

■

NEW


MSL0402RGBU*3
78
30
100
5
-40 to
+85
-40 to
+100
2.1
20
100
5
624
20
220
400
20

■

120
3.5
527
360
550

■

114
3.3
470
90
180

■

SMLVN6RGB1W*4
400
50
2.1
10
624
450
700

■

40
3.3
527
710
1200

■

470
220
400

■

SMLVN6RGB1U*3
50
2.1
624
450
700

■

40
3.3
527
710
1200

■

470
220
400

■

MSL0104RGBW*4
50
2.1
624
450
700

■

40
3.3
527
710
1200

■

3.2
470
220
400

■

MSL0104RGBU*3
50
2.1
624
450
700

■

40
3.3
527
710
1200

■

3.2
470
220
400
The World's Smallest*1 Reflector-Type RGB LED
Reducing mounting area by 70% compared with conventional products allows more LEDs to be mounted in the same footprint, leading to significantly greater resolution and clearer display.
Enables high resolution character display.
Sulfuration Resistance + Longer Life + High Reliability
Improved anti-sulfuration performance (i.e. against cigarette smoke, exhaust gases) is provided along with longer life, enabling use in automotive and industrial applications.
High Brightness & Excellent Color Mixing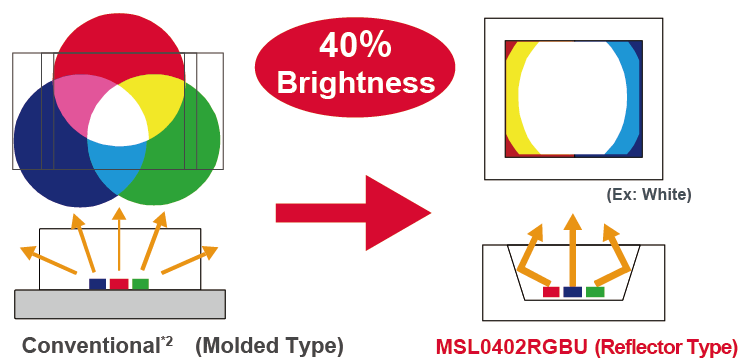 High-density element mounting makes it possible to develop a compact reflector-type LED in the 1816 size. As a result, brightness is increased by 40% over conventional* molded types. In addition, less light leakage in the transverse direction improves color mixing characteristics along with luminous intensity.
* Conventional Product: SMLVN6RGB1 Series
High Brightness 1608 Size Single Rank Chip LEDs SML-D15 Series
■ Features
Single brightness rank Minimizes brightness variations
Broad operating range -40°C to +100°C
3× brighter
AEC-Q101 qualified
■ Lineup
Part No.
Absolute Maximum Ratings (Ta=25°C)
Electrical-Optical Characteristics (Ta=25°C)
Power
Dissipation
PD(mW)
Forward
Current
IF(mA)
Peak
Forward
Current
IFP(mA)
Reverse
Voltage
VR(V)
Operating
Temp.Topr
(°C)
Storage
Temp.
Tstg
(°C)
Forward
Voltage
VF
Reverse
Current
IR
Emission
Wavelength
λD
Luminosity
Iv
Typ.
(V)
IF
(mA)
Max.
(µA)
V
(V)
Typ.
(nm)
IF
(mA)
Min
(mcd)
Typ.
(mcd)
IF
(mA)
■
SML-D15VW
84
35
100*
5
-40 to
+100
-40 to
+100
2.0
20
10
5
630
20
71
112
20
■
SML-D15UW
620
90
140
■
SML-D15U2W
615
112
180
■
SML-D15DW
605
180
280
■
SML-D15YW
87
2.1
590
■
SML-D15MW
571
56
90
(): Reference value
Note: Automotive-grade products are designated with a 'C' in the part number
*Duty≦1/10, 1kHz
Single Brightness Rank Standard

ROHM's comprehensive manufacturing process (from the device production stage) minimizes brightness variations, allowing the SML-D15 series to meet the high brightness requirements of the automotive sector.
-40°C to +100°C Operating Temp. Range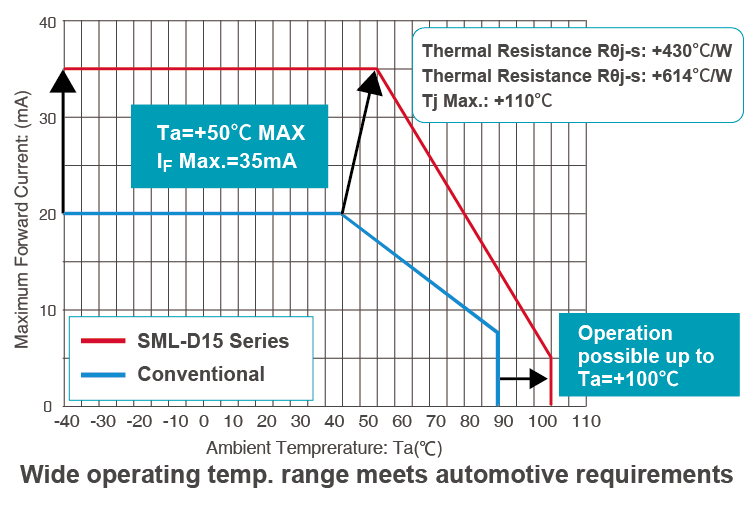 Up to 3× Brighter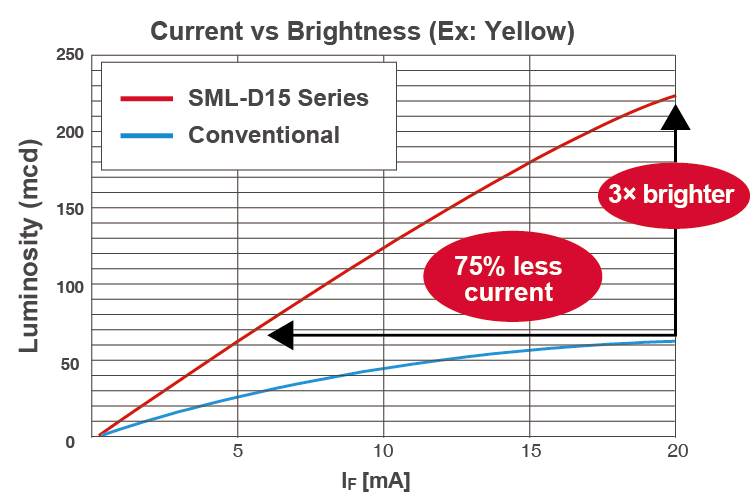 3× higher brightness vs conventional products makes it possible to decrease power consumption by reducing IF
*Conventional product: SML-D12x8W Series