Home

>
About ROHM
Message from Our President
Company Mission
Quality is our top priority at all times. Our objective is to contribute to the advancement and progress of our culture through a consistent supply, under all circumstances, of high quality products in large volumes to the global market.
ROHM's CSV passed down an unbroken line since its founding
The concept of carrying out corporate activities and Creating Shared Value (CSV) while addressing various social issues has become commonplace as an approach to creating corporate value. With a worldwide population estimated at around 8 billion people, we are faced with not only food and water shortages, but other major problems as well, such as the depletion of electricity and other forms of energy. This is also the reason why people are calling for recognition of the need for solutions that take sustainability into account.
CSV is hardly a new concept for ROHM. 'Our objective is to contribute to the advancement and progress of our culture through a consistent supply, under all circumstances, of high quality products in large volumes to the global market.' This was established as our corporate objective in 1966 and one we have continued striving towards ever since.
Although the size of our company and the business environment have changed drastically during ROHM's fifty-odd years amid continuing diversification, this mindset that forms our core persists unaltered and is passed down unbroken as ROHM's DNA.
We believe that having each and every employee implement the concepts of the company mission and basic management policy to pursue innovative product development and high quality manufacturing leads to both increased customer satisfaction (CS) and social contribution. This, in turn, becomes a source of pride and confidence for ROHM employees, driving the creation of new challenges.
In the ROHM Group, this virtuous cycle is considered our CSV, and we aspire to meet our stakeholders' expectations by gathering diverse human resources from around the world and pursing honest corporate activities while establishing an active working environment.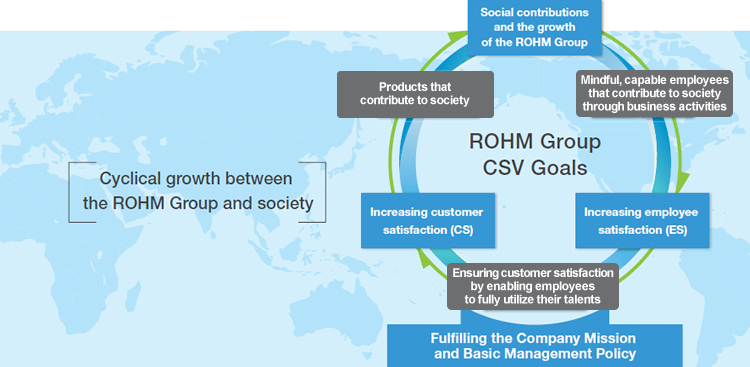 3 ECOs to accelerate CSV activities
3 ECOs sought by
the ROHM Group

ECO Earth
Contributing to a global environmentally conscious society

ECO Energy
Contributing to an energy conservation-oriented society

ECO Life
Contributing to a safe, reliable, and comfortable society and enriching daily lives
ROHM contributes to society by supplying groundbreaking products based on the concepts of energy saving, safety, comfort, and compactness. And ROHM continues to supply key devices for a wide range of fields, including the automotive sector, where technological innovation is progressing, the industrial equipment market, which is undergoing expansion due to the rapid emergence of IoT applications, and the area of IT devices represented by smartphones and tablets.
The ROHM Group is also pursuing three ECOs -- ECO Earth, ECO Energy, and ECO Life -- as keywords for further accelerating these CSV activities.
ECO Earth~Achieving waste-free manufacturing by pursuing quality first~
The ECO Earth initiative seeks to minimize the environmental load as much as possible by continuing to pursue a quality first approach established since ROHM was founded and carrying out efficient manufacturing that cuts down on all types of waste.
Supporting these activities is a vertically integrated production system in which each step, from development to production, is implemented within the Group. Pursuing manufacturing that infuses high quality into all processes and cuts waste at each step leads to increased production efficiency, reduced greenhouse gas emissions from production processes, and resource conservation, leading to lower energy consumption.
ECO Energy~Achieving higher energy savings with high effciency and low loss~
The ECO Energy initiative strives to provide products that achieve greater energy conservation.
At the core are analog solutions that fuse ROHM's analog expertise with digital and software technologies to provide high efficiency, high precision power supplies and motor drivers that are easier to use. ROHM also contributes to dramatically increased miniaturization and energy savings in the automotive and industrial equipment markets by providing optimized power solutions that combine industry-leading SiC power device technology with module technology and control ICs that maximize SiC performance.
ECO Life~Achieving greater safety, comfort, and compactness~
The ECO Life initiative helps to achieve a safer, more reliable, comfortable, and smarter society.
In the field of IoT where significant expansion is expected, ROHM delivers modules and other devices to accelerate the adoption of IoT using sensing solutions that optimally fuse proprietary sensor expertise with control and wireless communication technologies.
On the other hand, to support the continuing evolution of smartphones and other portable devices, which are becom-ing increasingly multifunctional, ROHM offers the thinnest, smallest products on the market. ROHM expanded its ultra-compact lineup, including the RASMID series of the world's smallest components developed utilizing technolo-gies cultivated in the semiconductor industry. These products help accelerate miniaturization utilizing conven-tional methods while contributing to further reductions in device size and weight as mobile solutions.
Implementing the company mission to enhance product and management quality
We believe it is imperative to improve not only product quality, but management quality as well that may signify the quality and class of a company. ROHM has streamlined the organization of the CSR committee across the entire ROHM Group while actively engaging in activities that comply with the EICC code of conduct for the electronics industry.
The ROHM Group will continue to encourage each and every employee to practice the Company Mission and contribute to society by promoting innovative product development and high quality manufacturing, striving to be a company that meets stakeholder expectations.
June 2016
Satoshi Sawamura, President