Home

>
CSR Management
CSR-related decision-making and responsibility
In the ROHM Group, the CSR Committee, comprised of all thedirectors and division heads with their respective rights, fulfills responsibilities for CSR themes that spans the entire Group, such as the environment, society, and governance, with ROHM's President as the Committee Chairman. The CSR Committee includes seven subcommittees that make decisions based on discussions about objectives, plans, and performance in each area. Resolutions determined by the CSR Committee are conveyed to ROHM's internal divisions and group affiliates through the seven subcommittees then executed accordingly. Each member of the seven subcommittees is appointed by the respective committee chairperson at the same time the annual implementation plan is established, after which they begin fulfilling their duties. The CSR Office acts as both an office for managing the CSR Committee and a liaison with outside auditing organizations for CSR-related topics.
Management system based on international and other standards
The ROHM Group has received certification for its management systems in a variety of areas including quality, the environment, occupational health and safety, and information security (see below chart), and implements the PDCA cycle of CSR management while carrying out internal audits and receiving external audits.
Management System Acquisition and Operating Status
Theme
Management System Verification and Customer Requests
Acquisition Status
Product Quality
ISO9001
All ROHM Group companies are ISO 9001 certied, while key production bases have also obtained ISO/TS 16949 certication.
ISO/TS16949
Management
Quality
(Quality of
Business
Activities)
The Environment
ISO14001
Each company in the ROHM Group has built a management
system that is compliant with or based on ISO 14001.※3
Occupational Health and Safety
OHSAS18001
ROHM obtained certication in 2013.
Major bases in Japan and four overseas production plants have obtained certication.
Information Security
ISO/IEC27001
ROHM obtained certication in July 2013.
Labor, Health and Safety,
The Environment, and
Ethics Management System
EICC※1 VAPaudit※2
ROHM Group production companies receive audits from a third-party organization every two years.
※1 EICC:Short for Electronics Industry Citizenship Coalition, an organization and its norms comprised primarily of electronic device related manufacturers and major suppliers.
※2 VAPaudit:VAP refers to "Validated Audit Process." This is a third-party audit for compliance with the EICC Code of Conduct.
※3 domestic affiliates and ROHM Korea Corporation have received third-party certification as an integrated system. Overseas Group companies have created a self-reporting environment management system based on the ISO14001 standard.
FY 2015 EICC audit results at 6 overseas production bases
To increase our management quality, the ROHM Group has been voluntar ily recei v ing EICC audi ts, which are considered the strictest type of CSR audit, since FY 2013.
In FY 2015, six major overseas production bases underwent EICC audits. They completed the audits with a mean score of 197.8 points, which is an extremely high level considering the maximum possible score of 200 points. All bases that were audited were issued certificates.
In FY 2016, we plan to receive EICC audits at our domestic bases.
EICC audit at an overseas production base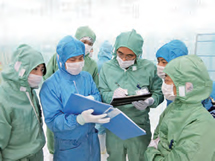 Certicate issued upon completion of the EICC audit