Home

>
Implementing social responsibility throughout the value chain
Promoting social responsibility throughout the value chain
CSR procurement audit at a business partners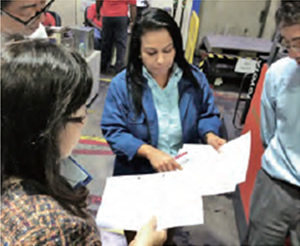 The ROHM Group carries out all types of activities to assist customers in CSR and CSR procurement, aiming to build a robust value chain based on mutual trust and prosperity with the customer.
ROHM carries out CSR procurement audits at business partners located both inside and outside Japan and checks the progress of CSR initiatives. We visited 15 companies in FY 2014, 28 in FY 2015, and are scheduled to visit 27 companies in FY 2016.
In December 2015, ROHM held a CSR procurement briefing, inviting 102 companies. This was the second such meeting held since the CSR procurement promotion briefing in 2013. In addition to describing ROHM Group initiatives and future challenges, ROHM invited outside lecturers to share the latest CSR information with participants.
CSR procurement audit carried out at a business partner
In 2015, we underwent a CSR procurement audit from the ROHM Group. We cooperate with ROHM Group business activities in logistics, and through this audit were able to gain a sense of the importance of CSR from an employee's perspective.
For example, we recognized the need for an on-premises medical room that did not yet exist to care for the mental and physical health of employees. As a result of internal discussions following the audit, we installed a medical room with a full-time nurse. I believe that this has allowed us to provide valuable services to employees, such as emergency medical care, monthly checkups by a doctor, and free immunizations.
IT Manager/ QMR,
HANKYU HANSHIN EXPRESS PHILIPPINES, INC.
Olen Francia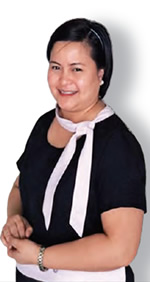 Response to ensure avoidance of using conflict minerals (conflict-free measures)
Regions with conflict minerals
A financial reform bill was enacted in the US in July 2010 and then adopted as a regulation by the US Securities and Exchange Commission (SEC) in August 2012, making it mandatory for listed companies to conduct surveys and submit reports to the SEC on its use of conflict minerals (gold, tin, tantalum, and tungsten; known as 3TG), which are a major source of funds for armed insurgents and rebel forces in Democratic Republic of the Congo and neighboring areas.
To ensure worry-free use of ROHM products by customers, the ROHM Group strives to achieve conflict-free measures at a product-by-product level and pursues due di l igence wi th a cross-organizational working group created under the CSR Committee.
Green procurement – Management of environmentally hazardous substances together with suppliers
The ROHM Group has always shown consideration for the global environment and promoted efforts for the healthy continuation of humankind as the most important issue declared in its environmental policy.
In order to achieve sustainable economic development without destroying the global environment, we need to manufacture recyclable products of lower environmental load. So, the ROHM Group has promoted the manufacture of environmental-friendly products by enforcing compliance efforts throughout the entire supply chain.
The ROHM Group will continue to manufacture environmental-friendly products by further strengthening our management system and deepening mutual understanding between us and our suppliers.