Home

>
Culture & Exchange

ROHM Music Foundation
ROHM sponsored Kyoto International Music Students Festival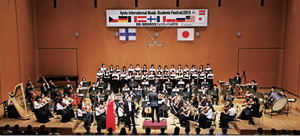 The ROHM Music Foundation was established in 1991 with the goal of promoting and developing music culture. In FY 2015 the foundation supported 40 scholarship students and hosted a series of Scholarship Concerts and Friends Concerts featuring performances by students. Other activities include hosting the Kyoto International Music Students Festival to promote international exchange and nurture young musicians, holding music seminars to foster professional musicians, and sponsoring music-related performances and research. (Costs for FY ROHM sponsored Kyoto International Music Students Festival 2015: approx. 872.84 million yen)
In 2015, the Kyoto International Music Students Festival, which has been held since 1993, received the Musical World Award at the Japan Mécénat Awards, hosted by the Association for Corporate Support of the Arts to recognize exceptional activities that contribute to society through the arts and culture.
<ROHM Music Foundation website>

ROHM Raku-Raku Classic Series
Since 2014, ROHM has collaborated with the Kyoto Symphony Orchestra and the Japan Philharmonic Orchestra to host a classical music seminar known as the ROHM Raku-Raku Classic Series that provides an opportunity for employees and their families to experience the wonder of classical music.
To date, more than 1,100 employees and the ir families have attended the events.
Exchanges with stakeholders through company tours
Tour of an overseas manufacturing facility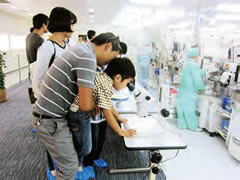 The ROHM Group fosters deeper friendships with local residents, students, employees, and their families by hosting regular tours of its facilities in Japan and overseas.
By providing easy-to-understand explanations of initiatives being undertaken at each facility, we hope to deepen understanding and strive for increased familiarity among stakeholders.