Home

>
Risk management and BCM
Risk management and BCM system
BCP training at the Thai production company
(drill to assemble flood protection walls and start up water drainage pumps)
ROHM Group business activities affect the economy, environment, and society in a variety of ways, and those effects which are positive are considered 'opportunities' for the group, linked to CSV and further development. Conversely, adverse effects that arise or may arise are considered 'risks,' and ROHM takes measures to prevent, reduce, and minimize those risks. The Risk Management and BCM Committee, which is a subcommittee of the CSR Committee, is responsible for considering risk measures. Maps of risks related to not only natural disasters, but also human rights and the environment, are revised four times a year at committee meetings. Among those risks, an extremely important one is the potential for adverse effects on customers and society as a whole due to reduced production or shutdown at production companies caused by natural disasters, making it imperative that we focus efforts on Business Continuity Management (BCM). Business continuity planning (BCP) drills are also held at each production company to spread awareness about BCP and verify its effectiveness.
Risk management and BCM Organization Chart

Fire and disaster prevention management system and internal fire protection patrols
Company-wide fire protection patrol during the autumn fire prevention campaign


(Implemented in 2013 and to be implemented in 2014) (Implemented every year)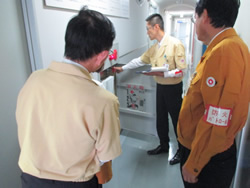 The Fire Prevention Committee and its special committees operate patrols and hold meetings on "general fire prevention," "clean rooms," "hazardous substances," and "earthquake countermeasures." ROHM also strengthens fire prevention management by self inspections that include managers in charge of fire, persons in charge of fire extinguishers, persons in charge of earthquake countermeasures and others in each workplace as a way of reducing fire and disaster risks.
From May through December 2015, Head Office personnel conducted two patrols at each of six overseas plants. As well as conducting drills, they provided guidance to enhance the management systems for preventing fires and other disasters at the overseas Group companies.
Formation of self-defense fire-fighting teams, and fire and disaster prevention drill
Scene from ROHM's mass evacuation drill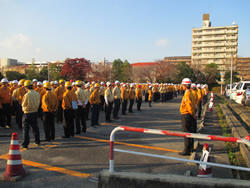 Scene from water barrier installation training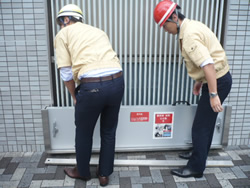 As a preparation for disaster, ROHM has self-defense fire-fighting teams and deploys small engine fire pumps, chemical protective suits, disaster prevention/fire protection clothes, life-saving equipment, etc. according to each company's situation. ROHM also conducts practical training in firefighting for fire and earthquake scenarios, drills for clean rooms that handle hazardous substances and earthquake drills so that everyone can respond in times of disaster in a quick and appropriate activity. ROHM actively participates in community fire drill contest and comprehensive evacuation drills in each area where the group has business operations, in order to cooperate in regional disaster prevention efforts. In November 2015, a total of 1,896 employees participated in a mass evacuation drill at the Head Office as preparation for an earthquake.
In March 2014, water barriers were installed in the basements of the main buildings as a flood control measure. In September 2015, the in-house firefighting team conducted flood control training (installation of water barriers and sandbags). Furthermore, during October 2015, evacuation drills were conducted once each for the different night shifts, to cover the possibility of a disaster occurring at night or on a weekend or holiday.
ROHM's BCP also specifies to call up self-defense fire-fighting teams and provide fire-fighting equipment if a fire occurs in the surrounding area.
Implementation of BCP drills
Drills being conducted at production company in Thailand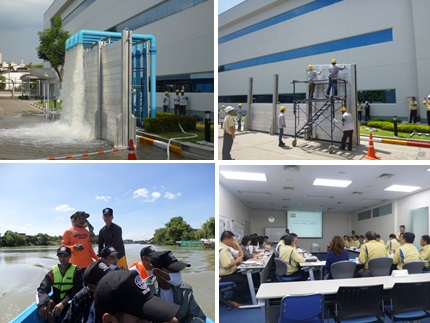 In September 2015, ROHM conducted drills for the BCM countermeasures head quarter as preparation for flooding at our production company in Thailand.
Based on an action plan that was prepared by using the experiences of the flood that occurred in 2011, the implementation items were checked for hypothetical situations assuming "upstream flooding" and "flooding equivalent to that in 2011 with a flood wall in the industrial park being washed away." In addition, the following exercises were also conducted: flood wall assembly drills (prepared in case of flooding), drain pump operation drills, boat-handling training, checking of goods for use in case of flooding, and training on other necessary skills.

Scene of drills at ROHM headquarters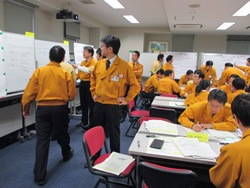 In November 2015, ROHM conducted drills for the BCM countermeasures head quarter as preparation for an earthquake at its Head Office.
In the recent fourth session, the drills were conducted in two separate parts: the first part comprised drills simulating initial responses, and the second part included a discussion about possible actions to take in the event of an earthquake. Such continuous practical training has increased the overall level of readiness—in terms of BCP—throughout the company.
The ROHM Group will continue to conduct BCP drills so that the prepared BCP does not end up as just a plan and to identify any defects or problems in the BCP through repeated drills.
Promoting BCP in the supply chain
The ROHM Group considers it extremely important to formulate a Business Continuity Plan (BCP) that takes into account natural disasters and unforeseen events in order to maintain operations and contribute to the sustainable progress of society.
ROHM continues to conduct surveys among business partners regarding alternate production methods, increased clarification of methods for procuring critical raw materials, and maintaining safety stock.
Going forward the ROHM Group will continue to promote its approach to supply chain BCP through CSR procurement self-assessment tools, visits to verify the status of CSR procurement, and other initiatives.