Home

>
Occupational health and safety management system
Policies and structure of health and safety management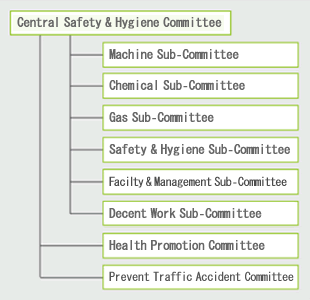 To ensure the safety of all employees, enhance and maintain their health, and promote comfortable working environments, various activities based on ROHM's health and safety policies are being implemented by the following bodies under the Central Safety and Hygiene Committee.
Safety and Hygiene Policies
Recognizing that safety and health is one of the most important issues in all business activities, we are taking a proactive approach in creating safe and comfortable working environment, in maintaining and enhancing the physical and mental well being, in adherence with the spirit of CSR.
We abide by the safety and health-related laws, other requirements and internal regulations.
We conduct risk assessments to identify the hazards and the magnitude of risks in the workplace, for which countermeasures to reduce the risk levels are implemented, thereby preventing occupational accidents.
We exert efforts to increase the awareness concerning safety and health by providing scheduled education, training, etc., and strive to prevent injuries, mental illnesses by creating comfortable workplaces through voluntary activities.
We establish and execute safety and health objectives and implementation plans for continual improvement of issues and strive for further enhancement through periodic reviews.
21 years of zero accidents that require time off from work at ROHM Headquarters
A certificate of merit
ROHM carries out risk assessments and internal patrols through its Central Safety and Hygiene Committee with the goal of zero work-related injuries. These efforts have ensured zero accidents that require time off from work for 21 consecutive years as of FY 2015.
Health and safety management is being enforced at each domestic and overseas production company with the goal of zero incidences of work-related injuries.
ROHM also uses a Legal Compliance Checklist once a year to evaluate the degree of understanding and level of compliance with laws related to health and safety at each company.
Incidence Rate (ROHM Group)

Severity Rate (ROHM Group)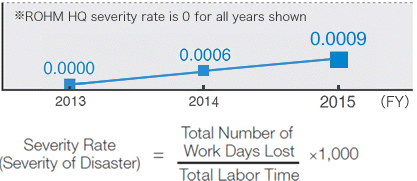 ※Ref… Electronic component, device, and electronic circuitry manufacturing industry average Incidence
Rate: 0.24 / Severity rate: 0.01 Source: 2013 Workplace Accident Trend Survey, Ministry of Health, Labor and Welfare
Taken from the general results [of the business establishment survey (with 1000 or more people) and the general construction industry survey
Awards ceremony at an overseas production company
Awards ceremony at an overseas production company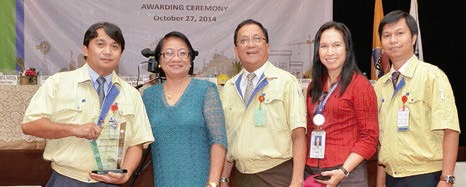 The production company in the Philippines was awarded a bronze prize from the Philippine Department of Labor and Employment for its excellent results on health and safety initiatives.
Safety and hygiene risk assessment
ROHM conducts risk assessments in order to prevent occupational accidents. Following the three processes involves identifying sources of dangers and hazards, setting priorities by estimating associated risks and taking measures to reduce those risks. ROHM conducts these assessments not only when introducing new equipment and chemicals but also when risks change because of changes to equipment or operations using designated forms when necessary, to make planned improvements.
Chemical risk assessment
Machine risk assessment
Operational risk assessment
ROHM conducts the risk assessment using an its own form and based on strict standards, and requires that measures be taken until the risk is improved to an acceptable level that assuredly preempts occupational disaster.
Safety and hygiene audits and in-company patrols
ROHM conducts safety and hygiene audits and various patrols to extract and correct any shortfalls in the working environment and operations. ROHM also appoints a patrol and hygiene administrator for each workplace to monitor hygiene in each workplace once a week
In-Company Patrols
Summary of audits patrols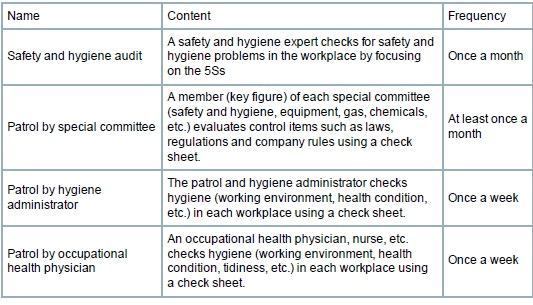 Safety management of equipment
ROHM sets safety criteria when introducing equipment to prohibit the use under unsafe conditions and thereby prevent occupational accidents.
Specifically, ROHM has standardized procedures for confirming safety using operating rules, equipment handling manuals, etc., clarified the flow from equipment introduction to operation, and established a system that prevents anyone from ordering any equipment until its safety is ascertained by a "Written Confirmation of Safety Review of Machine/Device Prior to Introduction." Furthermore, with the "Written Confirmation of Safety Review of Machine/Device Prior to Operation," the system prohibits anyone from operating the machine or device until the safety confirmation of the installed equipment has been completed prior to the actual operation.
Handling and control of toxic substances
ROHM has set original control rules on the handling and control of toxic substances*, to prevent the exposure to such substances, and conducts environmental measurements in compliance with the "Guidelines for the Prevention of Health Damage by Mutagenic Chemical Substances." Controlled substances are reviewed once a year by the Special Committee on Chemicals. ROHM also keeps and refers to past year records and conducts monitoring patrols.
※Toxic substance (general) is a collective term for substances that remain detoxified in the environment for an extended period of time and have a harmful effect on the human body.
Safety and hygiene education
ROHM regularly imparts in-company safety and hygiene education, Safety officer/VDT operation management workshop and KYT workshop and encourages its employees to acquire related safety and hygiene qualifications via outside seminars, etc.
ROHM also crafts annual plans on acquiring qualifications for each division, distributes notices of seminars offering qualification to target divisions, and checks the status of acquired qualifications through the Central Safety and Hygiene Committee and Safety and Hygiene Special Committee.
Seminar for safety administrators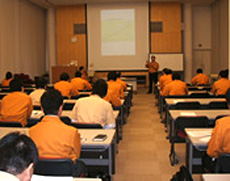 Seminar for VDT work administrators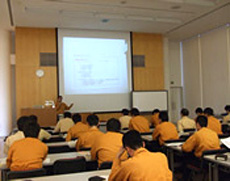 Examples of acquired qualifications in 2015
Hygiene administrator. 44 persons
Organic solvent handler. 52 persons
Specified chemical substances,
tetraalkyllead, etc. handler.
60 persons
Safety administrator. 53 persons
VDT work administrator. 87 persons
Traffic safety education
In order to prevent traffic accident, ROHM has organized traffic accident prevention committees to encourage a variety of activities.
Attendance at training lectures for traffic accident prevention is mandatory for all new commuters who use private cars, motorcycles, or bicycles, raising consciousness of traffic safety. ROHM has also set up seatbelt check, patrols of riding bicycle with an umbrella up and distribution of flyers 'Safety Road', as well as educational activities for complying with traffic rules and improving commuting manners.
Monitoring of the use seat belts
Driving workshop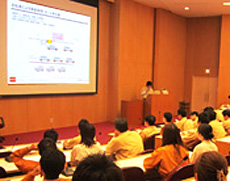 Educational flyer 'Safety Road'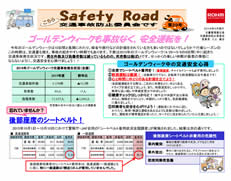 Installment of AED (Automated External Defibrillator)
Installment of AED
An AED (automated external defibrillator) has been installed in each building in the company and ROHM holds training sessions so that many employees can handle the device without panicking if the need arises.
Instructions on how to use an AED or CPR have been imparted in regular life-saving workshops and 87 persons have attended the workshops in 2015.