Home

>
Employees Health
Health checkups
ROHM has conducted regular health checkups for employees to manage their health. The consulting rate reached a hundred percent promptly. Also, as the preventive measure of metabolic syndrome, ROHM has conducted the individual interviews for employees who have to take a specific health instruction and continuously supported them. Therefore, many employees get better result of health checkups than that of last year, and they are is satisfied with them.
ROHM also regularly conducts "measurements of workplace environments." These measurements cover even environments where the risk of direct exposure to hazardous substances or chemicals is low. For more than 20 years straight, the workplace at ROHM's Head Office (a total of 207 sites were measured in 2013) has been ranked "first class," which means the workplace environment is appropriately managed.
Measures for mental health
Mental health workshop for administrators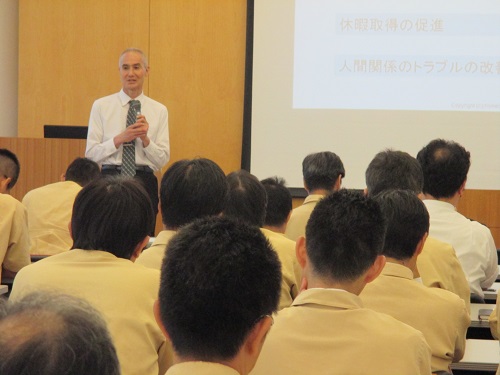 As measure for employee mental health, ROHM provides seminars on mental health and relaxation. In 2015, 71 persons participated in a mental health workshop for administrators. A resident nurse (psychological counseling staff) is assigned to the company's medical office.
Furthermore, ROHM provides for examination by an occupational health physician when necessary.
ROHM will continue to monitor signs of poor health condition for each type of job and age category, require all employees who work more than 80 hours per month after office hours to see an occupational health physician, and work to improve mental care and the workplace environment.
Also, the stress check which is obliged to do has conducted in June every year from 2016.
Various activities for health promotion
Let's Walk Club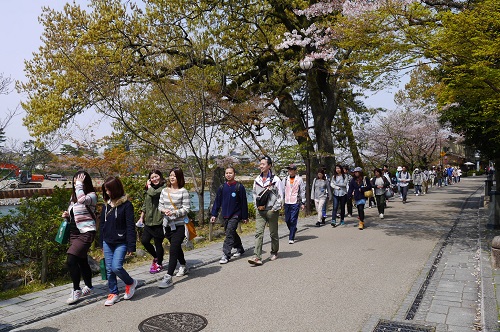 ROHM created a "Health Promotion Committee" to maintain and promote health, and organize various activities to promote the health of its employees.
A typical event of ROHM's, the "Let's Walk Club," is one such activity. This event is held every spring and autumn. After walking for several kilometers and enjoying the season and scenery, employees and their families interact with one another by playing various games and participating in different events, and spend a pleasant and healthy holiday. In 2015, 592 employees participated in the two events in spring and autumn. Also, a "walking campaign," in which employees challenge a goal of walking 910,000 steps total or 10,000 steps every day for 91 days from September 1 to November 30 was held in 2015 and 464 employees participated in the campaign.
Every year, we hold a variety of sports events that give management staff, employees, and their families the chance to socialize with one another while working up a sweat.
Health promotion program at overseas production company
The production company in Thailand provides employees and cafeteria chefs with dietary education in cooperation with the Thai Health Promotion Foundation, a specialized agency of the Thai government. In addition, a health station has been established in the company's convenience store that sells health drinks and has a scale and blood pressure monitor available free for use, establishing a system to increase health awareness among employees.
Stakeholder Voice

From a specialized agency of the Thai government
Working together with the Thai Health Promotion Foundation (Thai Health*) to implement a health promotion program
In Thailand, there are few companies even today in which management staff and other employees share their views on the importance of workplace health promotion and where employees' health and happiness are promoted. In response, the ROHM Group's production company in Thailand utilizes Thai Health's 'Happy Workplace Program' to maintain a mid- to long-term vision in which the company comes together to achieve a healthy and comfortable work climate. We were extremely impressed by their sincere efforts.
*Thai Health: A specialized agency of the Thai government dedicated to promoting health in Thai citizens