Home

>
Respect for human rights and diversity in employment
Respecting human rights and diversity of employees to increase corporate value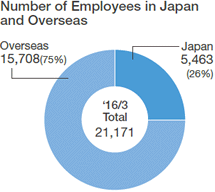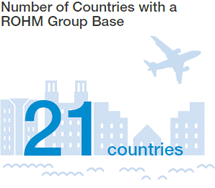 The ROHM Group respects the Fundamental Principles and Rights at Work declared by the International Labor Organization (ILO). As standards in its Labor Policy, the Group has specified respect for human rights and the prohibition of discriminatory treatment, freedom of choice in employment, prohibition of child labor, and freedom of association, and has declared that it will protect the humanity and individuality of each employee while building a comfortable work environment.
As business expands globally, ROHM considers it essential to utilize diverse human resources not limited by such factors as nationality, age, or gender. For example, ROHM has programs in place for employees to continue working even when experiencing life-changing events such as marriage, pregnancy, childbirth, or child/elderly care. The retention rate*after childbirth and/or parental leave was 97% in FY 2015.
*Retention rate:Total number of employees retained 12 months after returning to work following a period of parental leave by Total number of employees returning from parental leave in the prior reporting period(s)×100.
Striving to ensure Decent Work
As set forth in its Basic Management Policy, ROHM's goal is to 'maintain healthy and vigorous lifestyles and refine intellect and humanitarianism, thereby contributing to society,' and has designated a Decent Work Task Force to help ROHM achieve this goal. This task force has a committee function that oversees labor and ethics management systems. In addition to carrying out activities to prevent overworking, such as establishing working hour management targets, introducing a 'Refresh Day,' and providing employee education, the task force verifies the effects of its activities through risk assessments and internal audits and submits a report during management reviews.
Decent Work:
A major 21st century labor and ethics goal proposed by the International Labor Organization regarding the availability of employment under conditions of freedom, equity, security, and human dignity.
Employing people with disabilities
Employment Rate for People with Disabilities(%)
Domestic companies in the ROHM Group seek to create an environment that enables people with disabilities make full use of their abilities, and make efforts to employ people with disabilities.
The employment rate for people with disabilities in FY 2015 was 2.29% at ROHM Headquarters and 2.43% throughout Group companies in Japan, both of which exceed legal requirements.
Promoting work-life balance
ROHM is creating programs to enable continuous employment through life events such as marriage, pregnancy, childbirth, child-rearing, and nursing care. ROHM has also established a system for moving work start and end times up or down in order to increase the flexibility of working hours to make room for child-rearing and/or nursing care. Moreover, ROHM have been implementing a program for promoting paternity leave that makes a portion of leave a paid holiday.
Expansion and strengthening of benefits
Scene of an event for parents and children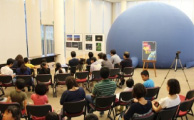 Night sky seen inside the planetarium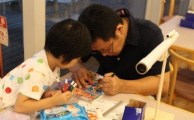 Website for ROHM employees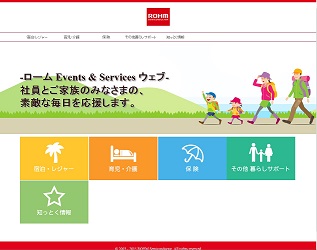 ROHM is pushing to expand various benefits, with the aim of creating a working environment that emphasizes a work-life balance and allows all employees to work with peace of mind.
For example, ROHM holds a "summer event for employees and their children" in which its employees and their families can participate at the Head Office and Yokohama Office every year. ROHM sets different themes every year and provides hands-on learning opportunities, craft kits, etc. so that the children can get ideas for open study programs offered at school. In 2014, ROHM set up a big indoor dome that functioned as a planetarium. The children also made a telescope so that they could carefully observe the stars. Other activities included a workshop for making retro-looking "plastic key holders" and a mini-concert by the "ROHM Symphonic Band," a music band formed by voluntary employees. More than 500 employees and their families came and had a fun time.
So that group employees can spend private time in fulfilling ways, ROHM is also increasing its corporate affiliation with various outside facilities. In 2014, ROHM reexamined the lodging facilities with which it has corporate ties and added a complete membership-based luxurious resort hotel that extends across the country to its new lineup.
In March 2015, ROHM launched an employee-only website that gathers information regarding various employee benefit programs. This enables all employees to access the employee benefit program menus from home or elsewhere. For example, they can easily book accommodation while consulting with their families. To encourage employees to take advantage of such benefits, ROHM intends to enhance the content of the website with additional information about personal development and events.
Employee Support Center
A support center has been established in the Personnel Division to receive complaints and questions from employees. Counseling staff are available for consultations concerning career issues, interpersonal relations at work, and any harassment by phone, e-mail and in person. A female counseling staff member is also available. Most members of the counseling staff have been officially certified as employment counselors, making them part of a system that provides highly professional advice to employees.