Home

>
Human Resources Development
Company Mission and Policies
Training of Company Mission and Policies
In order to contribute to the advancement of culture through the practice of its mission and policies, ROHM incorporates into its training program education and training opportunities that deepen understanding through discussion.
Giving each and every employee the ways and means to understand the company mission and policies, and the actions and practices needed to achieve supports ROHM's corporate activities and lead to CSV (Creating Shared Value).
Education for Global Communication
For ROHM to make further leaps forward as a true global company, we believe each and every employee needs to have global perspective and acquire communication skills that serve business situations.
ROHM has and is improving various kinds of development environment so that employees with a challenging spirit can grow into human resources who can play active roles in global business.
In 2012, ROHM set up the Language Study Abroad Program. Under this program, participants leave their work completely for a fixed period and devote all their time to learning a language at an overseas language school. After participating in the program, they immediately take on an overseas assignment where they are expected to communicate smoothly and effectively with local personnel. In the case of English, employees are offered the opportunity to study abroad while receiving a fixed company subsidy. The purpose of this study may be solely to improve language ability, regardless of any plans for overseas assignment. For the most part, lessons are conducted on a one-to-one basis, with English lessons offered in the Philippines and Chinese lessons in Dalian, China.
In-company school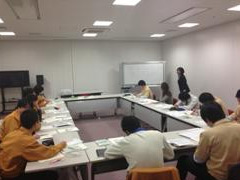 In-company English school
ROHM has an in-company school that aims to improve English communication skills for business. It uses TOEIC as its textbook and invites outside English conversation instructors. The school started in 2013 and 250 employees are currently attending (on a voluntary basis).
supporting personal career development
Career Training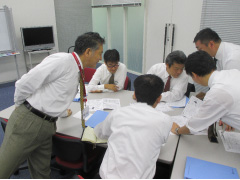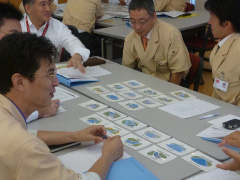 ROHM provides career counseling to support employees from a more personal perspective so that they can each set their own goals at important stages of their company life, challenge those goals and be motivated on the job. In 2011, ROHM introduced career counseling as part of training for newly appointed chiefs. Furthermore, ROHM added career counseling for employees in their 50s in 2012 and employees in their 40s in 2013, to support personal career development.
Supporting employee growth through personnel exchanges worldwide
Young employees working together with local staff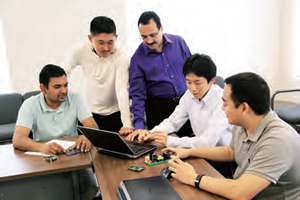 In FY 2012 ROHM established a practical training system that sends young employees overseas for a short period of time. To gain practical experience by working under the local manager. The primary objective is to have them acquire a global perspective from early on that will be needed for conducting collaborative work with companies in other countries in the future. ROHM is also actively engaged in a system for hosting employees from overseas subsidiaries at its Head Office for practical training for a set period of time. In FY 2015 ROHM hosted R&D and sales staff from China, South Korea, and the Philippines. Upon returning to their home countries, they are expected to develop into personnel who will support the future of local subsidiaries and play an active role in communicating with Japan.
Global Training Program Trainee and supervisor at the host base
I applied for the Global Training Program and was transferred to the US development base as an engineer. I learned that active communication and autonomous action are essential for building trust with members who have different approaches and customs from my own. I want to continue striving to maintain a global perspective and be able to work in a broad sphere that crosses borders.
[Left side : Trainee]
Module Technology Department,
Sensor Development Division,
Module Production Headquarters, ROHM Co.,Ltd.
Tsuyoshi Satomi
I believe that this program is useful for deepening mutual understanding and also effective for increasing skills and knowledge. Communication between groups is becoming much smoother than before as the number of trainees increases, and I can truly sense how this will create new value.
[Right side : Host Base]
Senior Director, Systems & Applications,
US Design Center, ROHM Semiconductor
U.S.A., LLC
Satya Dixit