Approach to Quality
LSI Business
LSI Business: Highlights - Synergy
The ROHM Group continues to evolve by fusing technologies Synergy
ROHM, LAPIS Semiconductor Co., Ltd, and Kionix, Inc. leverage their own strengths as well as combine technologies to create a succession of new products for next generation applications.
Collaboration with top manufacturers in the industry
Increasing energy savings by optimizing entire systems
Rather than single devices, ROHM has long been proposing total solutions that fuse digital and analog technologies, utilizing the strengths of LSIs, discrete components, and modules. In recent years, ROHM has been working with CPU manufacturers from the development stage in order to optimize entire systems and better respond to customer needs.
Intel Corporation
ROHM has been collaborating with Intel since around 2008, co-developing chipsets and reference boards for embedded devices for automotive systems and industrial equipment along with power supply ICs for tablets and in-vehicle infotainment.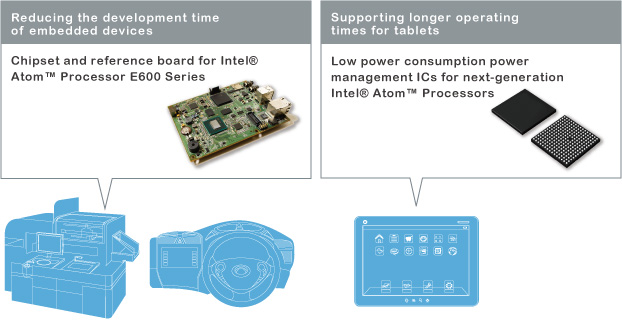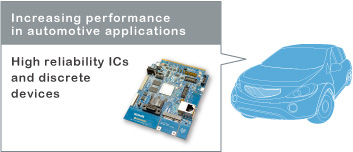 Freescale Semiconductor, Inc.
In September 2013, ROHM began collaborations with Freescale Semiconductor, Inc., which is one of the automotive market leaders in worldwide.
ROHM supports Freescale MCUs by providingautomotive-grade ICs and discrete devices.
Sensing Solutions
Enabling safe, comfortable, smart living
The ROHM Group is helping to create a new society through control ICs and wireless technology that take advantage of its broad sensor lineup.