Approach to Quality
Next-Generation Technology R&D
Anticipating the needs of the next generation Research & Development

In the development of new technologies that anticipate the needs of the next generation, ROHM is expanding R&D activities that coordinate everything from materials, design, manufacturing, and quality improvement centered on the power sector and sensing technology in order to create completely novel technologies.
Power
ROHM actively adopts new materials to take on the challenge of developing novel devices that achieve breakthroughs in efficiency and miniaturization.

SiC (Silicon Carbide)
ROHM is pursuing industry-leading development and has been widely recognized for its innovations and accomplishments.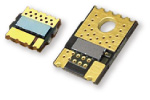 GaN (Gallium Nitride)
This material features excellent high-speed switching characteristics and is expected to be adopted in high-frequency applications not possible with conventional silicon (Si) devices.
Sensing
ROHM conducts a wide range of R&D activities aimed at creating a more energy efficient, safe, and secure society, from medical and health care devices to sensor networks that minimize system power consumption.
B-Analyst Trace Blood Analyzer
A system that can detect diabetes and inflammation markers using only a trace amount of blood in just a few minutes. Available not only Japan, but also in Europe.

CIGS Image Sensors
Enables observation of subcutaneous blood vessels using near-infrared light. Harmless to humans, this method shows great promise for medical applications. Joint research has been initiated with Nihon University.
Vital Sign Sensors
ROHM is developing a wearable sensor that can measure pulse and other vital signs in real-time even during activities using optical sensing technology.

EnOcean
A batteryless, maintenance-free system utilizing a new ultra-low-power wireless communication standard. An EnOcean switch was installed for the first time at Taima-dera, a Buddhist temple in Nara, Japan on February 2014.
Possibilities for significant growth in the M2M market
Wireless sensor networks (WSN), which are being discussed using terms such as M2M and trillion sensors, will see a full-scale global launch starting in 2020. The New Business Promotion Division is involved in WSN activities and is working to efficiently combine the ROHM Group's expertise in sensors, communications LSI, low consumption MCUs and other areas to expand module-level businesses. In particular, we are developing CIGS image sensors, vital sign sensors, and other products that take advantage of original technologies for new applications and markets, such as the medical and health care sectors.