Home

>
Environmental Data Book
ActivitiesROHM's Environmental Policy
We will always consider the global environment and contribute to the healthy continuation of humankind as well as to long-term business prosperity
Use originality and ingenuity to achieve energy conservation in all corporate activities.
Develop eco-friendly products and strive to minimize environmental load throughout the product's life cycle.
Prioritize reducing the environmental load when purchasing materials, secondary materials, and products.
Comply with domestic and international environmental laws and regulations and regional conventions.
Encourage employees to consider the living and global environment and educate relevant individuals.
Form a healthy relationship with society by contributing to the global environment and appropriately disclosing environmental information.
We continuously resolve problems by creating and carrying out the environmental objectives, and their action plans. We strive for higher levels of excellence through regular performance reviews.
ROHM's Approaches toward Global Environmental Conservation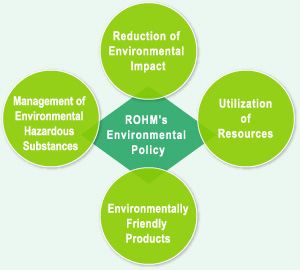 ROHM's Approaches toward Global Environmental ConservationROHM has been working on a variety of environmental conservation activities centering on the Environmental Policy.We believe that corporate activities contributing to the environment are to manufacture environmentally friendly products and yet to reduce our own environmental impact in manufacturing them. Particularly for the prevention of global warming, we are active in a range of the reduction of CO2 and other greenhouse gases emitted from our business operations.In addition, we will define long-term environmental targets and policy from the perspective of biodiversity, and have approaches to realize sustainable society.
Environmental Data Book 2015
Back Number
Environmental Data Book 2014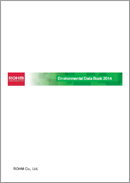 English ver. (PDF:890KB)
Environmental Data Book 2012 -2013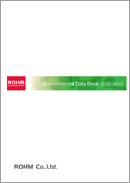 English ver. (PDF:3.78MB)
Environmental Data Book 2011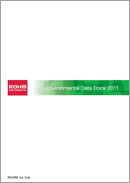 English ver. (PDF:7.09MB)
Environmental Data Book 2010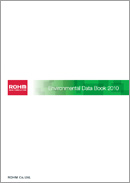 English ver. (PDF:3.74MB)